Editor's note: This is a regular feature profiling senior athletes at Bryant High School.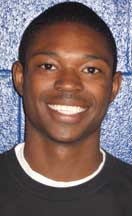 NAME: James Glasper
PARENTS: Angela and James Glasper
SIBLINGS: Jasmine Glasper. She's 6.
FAVORITE SUBJECT IN SCHOOL: HIstory
FAVORITE SPARE TIME ACTIVITY: Movies
FAVORITE FOOD: Pizza
FAVORITE MUSIC ARTIST OR GROUP: My favorite artist is Waka Flocka Flame
FAVORITE MOVIE: Menace II Society
FAVORITE TV SHOW: I guess Sportscenter
WHAT WAS YOUR FAVORITE TOY AS A KID? Hot Wheels
WHAT ARE YOUR PLANS AFTER HIGH SCHOOL? Go to SAU and study Criminal Justice.
OTHER THAN YOUR PARENTS, WHO'S HAD THE BIGGEST INFLUENCE ON YOUR LIFE? HOW? I guess my grandma. She taught me what's right and wrong, morals and everything.
WHAT'S YOUR FAVORITE THING ABOUT TRACK? Working out. I like to getting to run all the time
EVENTS? The 400 and the 400 relay.
WHAT APPROACH DO YOU TAKE TO YOUR EVENTS? Just take my time and think about what I'm going to do before I do it and, when I get out there, just try my hardest.
WHAT DO YOU THINK OF THE SEASON SO FAR? I'm kind of disappointed because I want us to be better than we are. But we're getting better. We've just got to work as a team.
WHAT'S BEEN THE HIGHLIGHT TO THE SEASON SO FAR? Probably our home meet. We got second and that was pretty good. We didn't win but we got second.
WHAT'S IT GOING TO TAKE FOR THE TEAM TO BE SUCCESSFUL THE REST OF THE SEASON? Just working hard. We've just got to come out every day and try our hardest.
TALK ABOUT YOUR EVENT NOW; WHAT DO THINK IS YOUR BIGGEST ASSET? WHAT ARE YOU MOST CONFIDENT IN YOUR ABILITY TO DO? I guess the way I finish because I don't like to lose. So I just try to kick in as hard as I can and never lose.
WHAT DO YOU WORK HARDEST IN PRACTICE TO IMPROVE ON? Probably stamina. I need to stronger, get my stamina up, just get my breath up so I can run longer.
WHEN YOU'RE THROUGH RUNNING TRACK AT BRYANT HIGH SCHOOL, WHAT DO YOU THINK YOU'LL LOOK BACK AND REMEMBER MOST FONDLY ABOUT THE EXPERIENCE? Probably the bus rides. Our bus rides are pretty cool. We get to laugh and joke around and sing. I think that's pretty cool.