The Bryant Lady Hornets will be hosting the Class 7A State Tournament beginning Thursday, May 10. For brackets, go here.
Editor's note: This is a regular feature profiling senior athletes at Bryant High School.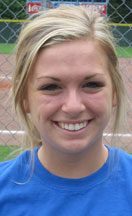 NAME: Jenna Bruick
PARENTS: Debbie Bruick and Kevin Bruick
SIBLINGS: I have an older sister and a younger brother. Katie is 22 and Ben is 15.
FAVORITE SUBJECT IN SCHOOL: Astronomy
WHAT DO YOU LIKE TO DO IN YOUR SPARE TIME? I like to paint and I like to play with my dog.
FAVORITE FOOD: Cookie cake
FAVORITE MUSIC ARTIST OR GROUP: Alternative or Indie rock[more]
FAVORITE MOVIE: Burlesque
FAVORITE TV SHOW: Friends and That 70's Show
WHAT WAS YOUR FAVORITE TOY AS A KID? A Simba stuffed animal
WHAT ARE YOUR PLANS AFTER HIGH SCHOOL? I'm going to Fayetteville and I'm studying engineering.
OTHER THAN YOUR PARENTS, WHO HAS HAD THE BIGGEST INFLUENCE ON YOUR LIFE? My older sister, because I've always looked up to her; ever since I was little I always tried to do everything she does. She's a really good person.
FAVORITE THING ABOUT SOFTBALL: All my teammates and it's fun.
POSITION: Second base
WHAT'S YOUR APPROACH AT THE PLATE? I'm a slapper so when I go up I look at basically how they're playing, deep or shallow, on me. I look for the gaps and whether I could bunt or not and just try to put it in between people.
WHAT'S YOUR APPROACH IN THE FIELD? I try to not let anything get by me.
WHAT DO YOU THINK OF THE SEASON SO FAR? I'm really happy about it.
WHEN THE TEAM PLAYS WELL, WHAT'S IT DOING? We're all having fun and we're all really pumped up and we're excited. That's when we always play the best, when we're having fun and not being too serious.
WHAT'S BEEN THE HIGHLIGHT TO THE SEASON SO FAR? The Van Buren tournament.

WHAT'S IT GOING TO TAKE FOR THE TEAM TO BE SUCCESSFUL AT STATE? We're definitely going to have to stay focused and just because we haven't lost yet, we can't just assume we're going to win. We can't get a big head about it or anything. We have to go in and play as hard as we can.
TALK ABOUT YOUR GAME. WHAT ARE YOU MOST CONFIDENT IN YOUR ABILITY TO DO? I'm good about reading the defense and placing the ball and getting on base, hopefully.
WHAT DO YOU WORK HARDEST IN PRACTICE TO IMPROVE ON? The same thing.

AFTER YOU'RE THROUGH PLAYING SOFTBALL AT BHS, WHAT DO YOU THINK YOU'LL REMEMBER MOST FONDLY ABOUT IT? The girls that I've played with, my teammates, my sisters.