Editor's note: This is a regular feature profiling senior athletes at Bryant High School.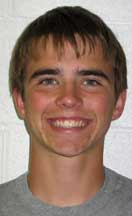 NAME: Jesse Wolf
PARENTS: Debbie and Bob Wolf
SIBLINGS: I have one brother. He's 15 and his name is Dylan.
FAVORITE SUBJECT IN SCHOOL: Math.
WHAT DO YOU LIKE TO DO IN YOUR SPARE TIME? Just hang out with my friends and my girl friend.

FAVORITE FOOD: Cheese quesadillas
FAVORITE MUSIC ARTIST OR GROUP: Drake
FAVORITE MOVIE: The Shawshank Redemption[more]
FAVORITE TV SHOW: Lost
WHAT WAS YOUR FAVORITE TOY AS A KID? Legos
WHAT ARE YOUR PLANS AFTER HIGH SCHOOL? Go off to college and major in computer science and get a job, hopefully. I'm going to Arkansas State.
OTHER THAN YOUR PARENTS, WHO HAS HAD THE BIGGEST INFLUENCE ON YOUR LIFE? I'd have to say Coach (Jason) Hay. He's taught me discipline and he's just really been there for me. He's a really good guy to talk to when I'm down.
FAVORITE THING ABOUT SOCCER: My friends are all on the team so it's really been awesome having them on the team all these years. It's just been fun for us and I just like passing the ball and shooting.
POSITION: Midfield.

WHAT DO YOU FEEL LIKE IS YOUR PRIMARY RESPONSIBILITY ON THE FIELD? I have to control it to make sure the other team doesn't control it so we're dominating the game and I have to distribute the ball to the forwards to make sure they can score. I also have to play good on defense or our defense will be in a hole.
WHAT DO YOU THINK OF THE SEASON SO FAR? We're doing okay. We've done better than we did last year but we need to pick it up and we're hoping to do that.
WHEN THE TEAM'S PLAYING WELL, WHAT'S IT DOING? We've been playing good, we just can't score. We need to work on our scoring more. Our defense is pretty solid. We just need to get some scoring in and we don't need to let those easy shots go in from far out. That's been a problem.
WHAT'S BEEN THE HIGHLIGHT OF THE SEASON SO FAR? For my season, it was when I scored against Searcy. It was from like 40 yards out. The highlight of our season was when we beat Russellville the last time we played them.
INDIVIDUALLY, WHAT ABOUT YOUR GAME ARE YOU MOST CONFIDENT ABOUT? I'm more confidant in my ability to hustle because I used to run cross country so I can keep up my pace for a while and my team really relies on that because I can get back on defense after a strong attack.
WHAT DO YOU WORK HARDEST TO IMPROVE? My shooting.
AFTER YOU'RE THROUGH PLAYING SOCCER AT BHS, WHAT DO YOU THINK YOU'LL REMEMBER MOST FONDLY ABOUT IT? Definitely my friends because we've played together for so many years. I'm going to miss them a lot.