Editor's note: This is a regular feature profiling senior athletes at Bryant High School.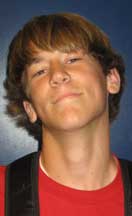 NAME: Jonathan Lowery
DATE OF BIRTH: June 5, 1992
PARENTS: Jon and Tara Lowery
SIBLINGS: Allison is 20, Josh is 15, Anna is 12.
FAVORITE SUBJECT IN SCHOOL: Math
WHAT DO YOU LIKE TO DO IN YOUR SPARE TIME? I enjoy lacrosse.
FAVORITE FOOD: Steak
FAVORITE MUSIC ARTIST OR GROUP: Aerosmith[more]
FAVORITE MOVIE: Dumb and Dumber.
FAVORITE TV SHOW: Family Guy
WHAT WAS YOUR FAVORITE TOY AS A KID? A remote control car.
WHAT ARE YOUR PLANS AFTER HIGH SCHOOL? Go to UCA.
OTHER THAN YOUR PARENTS, WHO HAS HAD THE BIGGEST INFLUENCE ON YOUR LIFE? Pop. He taught me a lot of stuff.
FAVORITE THING ABOUT SOCCER: Dribbling and scoring.
POSITION: Center mid.
WHAT DO YOU FEEL LIKE IS YOUR PRIMARY RESPONSIBILITY ON THE FIELD? To distribute the ball.
WHAT DO YOU THINK OF THE SEASON SO FAR? We've done pretty good. We're winning. We've been working together and we've got better players.
WHAT'S BEEN THE HIGHLIGHT TO THE SEASON SO FAR? None yet. Hopefully it'll come in the State tournament.
WHAT'S IT GOING TO TAKE FOR THE TEAM TO BE SUCCESSFUL THE REST OF THE SEASON? Keep passing and working hard
INDIVIDUALLY, WHAT ABOUT YOUR GAME ARE YOU MOST CONFIDENT ABOUT? Distributing the ball.
WHAT DO YOU WORK HARDEST TO IMPROVE? Defense.
AFTER YOU'RE THROUGH PLAYING SOCCER AT BHS, WHAT DO YOU THINK YOU'LL REMEMBER MOST FONDLY ABOUT IT? Hopefully the State tournament.