Editor's note: This is a regular feature profiling senior athletes at Bryant High School.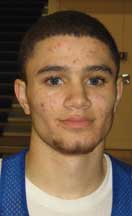 NAME: Jordan Griffin
PARENTS: Sherry Barker and Anthony Griffin
FAVORITE SUBJECT IN SCHOOL: Math
FAVORITE SPARE TIME ACTIVITY: Usually I'm either with my friends from Benton or with my mom.
FAVORITE FOOD: Catfish
FAVORITE MUSIC ARTIST OR GROUP: Webbie
FAVORITE MOVIE: I really don't have one.
FAVORITE TV SHOW: I like to watch ESPN.[more]
WHAT WAS YOUR FAVORITE TOY AS A KID? I think it was probably my little Sonic the Hedgehog toy when I was a little baby.
WHAT ARE YOUR PLANS AFTER HIGH SCHOOL? I plan to attend college and become a coach afterwards. I'm thinking about going with my cousins to North Central Missouri College.
OTHER THAN YOUR PARENTS, WHO'S HAD THE BIGGEST INFLUENCE ON YOUR LIFE? HOW? I think my cousin Josh has. He pushes me to try to do my best, to push through and keep my mind right.
WHAT'S YOUR FAVORITE THING ABOUT BASKETBALL? I just love the game. I've been playing since I was 5 years old.
POSITION: Point guard, shooting guard
WHAT DO YOU FEEL LIKE YOUR RESPONSIBILITIES ARE? Mainly, most of the time, make the right play and the right decision and try not to turn the ball over as much.
WHAT DO YOU THINK OF THE SEASON SO FAR? We've been playing hard. We've just had a tough couple of games that we should've won but we didn't. We had a great start of the season then we just kind of took a toll in conference.
WHEN THE TEAM'S PLAYING WELL, WHAT'S IT DOING? We're scoring a lot more points. We're making the other team turn the ball over twice as much as we do and we're getting what we want on offense.
WHAT'S BEEN THE HIGHLIGHT TO THE SEASON SO FAR? There's been two of them. When we won the tournament in Hot Springs, I think that was a big positive. Then when we won at Conway coming back from 16 at halftime.
WHAT'S IT GOING TO TAKE FOR THE TEAM TO BE SUCCESSFUL THE REST OF THE SEASON? We're just going to have to win some more ballgames and do what our coach says.
TALK ABOUT YOUR GAME NOW; WHAT ARE YOU MOST CONFIDENT IN YOUR ABILITY TO DO? I like to draw a lot of attention, get other players open then, when it's my turn to shoot the ball, then I'm going to let it fly.
WHAT DO YOU WORK HARDEST TO IMPROVE ON IN PRACTICE? I think I need to work on my footwork now and I need to get a little bit better at finishing around the basket, being able to finish through contact.
WHEN YOU'RE THROUGH PLAYING BASKETBALL AT BRYANT HIGH SCHOOL, WHAT DO YOU THINK YOU'LL LOOK BACK AND REMEMBER MOST FONDLY ABOUT THE EXPERIENCE? I think I'm just going to remember the players on our team, the good times and the bad times that we've had, the hard practices, the boot camp that we went through, all the hard work that we put in.