Editor's note: This is a regular feature profiling senior athletes at Bryant High School.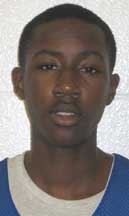 NAME: K-Ron Lairy
DATE OF BIRTH: Aug. 21, 1992
PARENTS: Maryam Macklin and Michael Lairy
SIBLINGS: Indica Hart
FAVORITE SUBJECT IN SCHOOL: Math
FAVORITE SPARE TIME ACTIVITY: Play basketball
FAVORITE FOOD: Pizza.
FAVORITE MUSIC ARTIST OR GROUP: Li'l Wayne[more]
FAVORITE MOVIE: AvP2, Alien vs. Predator
FAVORITE TV SHOW: Sportscenter
WHAT WAS YOUR FAVORITE TOY AS A KID? My basketball
WHAT ARE YOUR PLANS AFTER HIGH SCHOOL? Go to college. It doesn't matter where I just want to go to college and play basketball.
OTHER THAN YOUR PARENTS, WHO'S HAD THE BIGGEST INFLUENCE ON YOUR LIFE? HOW? Coach Rayburn, my AAU coach. I'm a better man, I'm a better basketball player — he's just helped me a lot.
WHAT'S YOUR FAVORITE THING ABOUT BASKETBALL? It's just what I love to do.
PRIMARY POSITION: Point guard.
WHAT DO YOU FEEL LIKE YOUR RESPONSIBILITIES ARE ON THE FLOOR? To be the leader, pick everybody up, get everybody involved and help the team win.
WHAT DO YOU THINK OF THE SEASON SO FAR? I think we're doing okay. I think we can do better. We've just got to keep working and it'll work out.
WHEN THE TEAM'S PLAYING WELL, WHAT'S IT DOING? Just playing together and playing smart and listening to the coaches.
WHAT'S BEEN THE HIGHLIGHT TO THE SEASON SO FAR? I'm pretty happy that we've already won more games this year than we did last year.
WHAT'S IT GOING TO TAKE FOR THE TEAM TO BE SUCCESSFUL THE REST OF THE SEASON? We've got to work and everybody's got to believe that they can be better and do better and we'll play better.
TALK ABOUT YOUR GAME NOW; WHAT ARE YOU MOST CONFIDENT IN YOUR ABILITY TO DO? My jump shot.
WHAT DO YOU WORK HARDEST TO IMPROVE ON IN PRACTICE? My ballhandling.
WHEN YOU'RE THROUGH PLAYING BASKETBALL AT BRYANT HIGH SCHOOL, WHAT DO YOU THINK YOU'LL LOOK BACK AND REMEMBER MOST FONDLY ABOUT THE EXPERIENCE? Just playing basketball with a bunch of my friends, people that I knew like my whole life. And I know I'm going to miss them.