Editor's note: This is a regular feature profiling senior athletes at Bryant High School.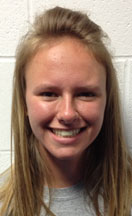 NAME: Kaitlin Gaiser

PARENTS: Julie Gaiser and Neil Gaiser

SIBLINGS: A little brother, Colton. He's 13.

FAVORITE SUBJECT IN SCHOOL: Math

WHAT DO YOU LIKE TO DO IN YOUR SPARE TIME? Hang out with my friends.

FAVORITE FOOD: Chicken Alfredo or steak

FAVORITE MUSIC ARTIST OR GROUP: Luke Bryan

FAVORITE MOVIE: I don't have one.[more]

FAVORITE TV SHOW: Everybody Loves Raymond
WHAT WAS YOUR FAVORITE TOY AS A KID? A little plastic pony.
WHAT ARE YOUR PLANS AFTER HIGH SCHOOL? I want to go to college at Henderson and then eventually become a pharmacist.

OTHER THAN YOUR PARENTS, WHO HAS HAD THE BIGGEST INFLUENCE ON YOUR LIFE? Probably Coach (Julie) Long, really. When I played soccer when I was little, it was always different. When I got to high school it was actually like — she makes it about the team. She makes you work hard and she teaches you about discipline and why you work hard.
FAVORITE THING ABOUT SOCCER: The team
POSITION: Center defense
WHAT DO YOU FEEL LIKE IS YOUR PRIMARY RESPONSIBILITY ON THE FIELD? I'm always the last one back, the last one to step so if it gets by everybody else, it's just me and the goalie left so I have to help her out.
WHAT DO YOU THINK OF THE SEASON SO FAR? This is our best season so far and I really think this is the year that we have the best chance at State.
WHEN THE TEAM'S PLAYING WELL, WHAT'S IT DOING? We pass a lot. This year, we're a lot better at passing. We can just pass it around the other team really well.
WHAT'S BEEN THE HIGHLIGHT OF THE SEASON SO FAR? Winning the Fort Smith tournament.
WHAT'S IT GOING TO TAKE FOR THE TEAM TO BE SUCCESSFUL THE REST OF THE SEASON? We're going to have to not get tired. We're going to have to keep our heads clear and keep on seeing what's ahead and not get lazy.
INDIVIDUALLY, WHAT ABOUT YOUR GAME ARE YOU MOST CONFIDENT ABOUT? Speed.
WHAT DO YOU WORK HARDEST TO IMPROVE? Being patient on stepping to the ball.
AFTER YOU'RE THROUGH PLAYING SOCCER AT BHS, WHAT DO YOU THINK YOU'LL REMEMBER MOST FONDLY ABOUT IT? That everybody on the team, we've never fought; not a single person fights with a single other person. I don't think many teams can say that.