Editor's note: This is a regular feature profiling senior athletes at Bryant High School.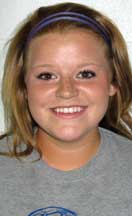 NAME: Kaitlyn Miller
PARENTS: Lee and Annette Miller
SIBLINGS: I have one brother. He's 22 and his name is Aaron.
FAVORITE SUBJECT IN SCHOOL: Human Anatomy
WHAT DO YOU LIKE TO DO IN YOUR SPARE TIME? Table tennis.
FAVORITE FOOD: Mi Ranchito
FAVORITE MUSIC ARTIST OR GROUP: Lady Antebellum
FAVORITE MOVIE: Remember the Titans[more]
FAVORITE TV SHOW: Either Vampire Diaries or Secret Circle
WHAT WAS YOUR FAVORITE TOY AS A KID? I had a little stuffed frog.
WHAT ARE YOUR PLANS AFTER HIGH SCHOOL? To go to Harding and play soccer and major in Biology.
OTHER THAN YOUR PARENTS, WHO HAS HAD THE BIGGEST INFLUENCE ON YOUR LIFE? I'll say, my brother, Aaron. We always fought and say who was better than the other at soccer but he's always been there for me and been encouraging and supportive.
FAVORITE THING ABOUT SOCCER: My teammates.
POSITION: Keeper.
WHAT DO YOU FEEL LIKE IS YOUR PRIMARY RESPONSIBILITY ON THE FIELD? To not let the ball go into the goal.
WHAT DO YOU THINK OF THE SEASON SO FAR? It's going good. We're 3-0 (in conference) and we're just going to keep it up.
WHEN THE TEAM'S PLAYING WELL, WHAT'S IT DOING? We're jelling, as Coach (Julie) Long says.
WHAT'S BEEN THE HIGHLIGHT TO THE SEASON SO FAR? The game against Norman, Okla. It was a tournament in Bentonville and we played really well in that game.
WHAT'S IT GOING TO TAKE FOR THE TEAM TO BE SUCCESSFUL THE REST OF THE SEASON? For everybody to continue to do their jobs and for us to have a lot of communication and for us to just play well together.
INDIVIDUALLY, WHAT ABOUT YOUR GAME ARE YOU MOST CONFIDENT ABOUT? The one v. one situations.
WHAT DO YOU WORK HARDEST TO IMPROVE? High balls, not getting chipped.
AFTER YOU'RE THROUGH PLAYING SOCCER AT BHS, WHAT DO YOU THINK YOU'LL REMEMBER MOST FONDLY ABOUT IT? My teammates.