Editor's note: This is a regular feature profiling senior athletes at Bryant High School.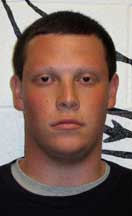 NAME: Kaleb Burns
DATE OF BIRTH: Nov. 17, 1991
PARENTS: Michael and Sandee Burns
SIBLINGS: Madelynn is 11.
FAVORITE SUBJECT IN SCHOOL: Science.
WHAT DO YOU LIKE TO DO IN YOUR SPARE TIME? Hang out, listen to music.
FAVORITE FOOD: Chicken strips
FAVORITE MUSIC ARTIST OR GROUP: Young Jeezy[more]
FAVORITE MOVIE: Friday Night LightsFAVORITE TV SHOW: Sportscenter.
WHAT WAS YOUR FAVORITE TOY AS A KID? Action figures.
WHAT ARE YOUR PLANS AFTER HIGH SCHOOL? Go to college, don't know where right now, (study) business management.
OTHER THAN YOUR PARENTS, WHO HAS HAD THE BIGGEST INFLUENCE ON YOUR LIFE? My grandmother. She's just always there. When you need someone to talk to, she's easy to talk to.
WHAT'S YOUR FAVORITE THING ABOUT FOOTBALL? I guess, the physicality. I like to hit people.
POSITION: Left tackle on the offensive line.
WHAT DO YOU FEEL LIKE IS YOUR PRIMARY RESPONSIBILITY THERE? Block for Chris (Rycraw) and Jimi (Easterling).
WHAT DO YOU THINK OF THE SEASON SO FAR? I think we're doing pretty good, got a little run going right now. I think we can keep it up. Everybody's being focused and there's unity as a team.
WHAT'S BEEN THE HIGHLIGHT TO THE SEASON SO FAR? Beating Catholic.
WHAT'S IT GOING TO TAKE FOR THE TEAM TO BE SUCCESSFUL THE REST OF THE SEASON? We've got to keep focused and we've got to cut out the little mistakes that we've been making and just progress, get better each week.
INDIVIDUALLY, WHAT ABOUT YOUR GAME ARE YOU MOST CONFIDENT ABOUT? Run blocking. I like that a lot
WHAT DO YOU WORK HARDEST TO IMPROVE? Probably, pass blocking.
AFTER YOU'RE THROUGH PLAYING FOOTBALL AT BHS, WHAT DO YOU THINK YOU'LL REMEMBER MOST FONDLY ABOUT IT? Being with the team. I'm going to miss that a lot, the unity, being with everybody in the locker room, more than anything.