Editor's note: This is a regular feature profiling senior athletes at Bryant High School.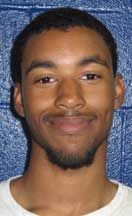 NAME: Khiry Thompson
PARENTS: Rochorn Thompson and Paula Jackson
SIBLINGS: I have four sisters. Audrion, 19; Aniya, 5; Autumn, 4; and Aria, 1.
FAVORITE SUBJECT IN SCHOOL: I don't have one, so I guess track.
FAVORITE SPARE TIME ACTIVITY: Go out, have fun, go to the mall or something like that.
FAVORITE FOOD: I like all food. I don't have a favorite.
FAVORITE MUSIC ARTIST OR GROUP: Lil Bucy
FAVORITE MOVIE: Menace II Society[more]
FAVORITE TV SHOW: The Game
WHAT WAS YOUR FAVORITE TOY AS A KID? Batman
WHAT ARE YOUR PLANS AFTER HIGH SCHOOL? Go to Texas Southern and study criminal law.
OTHER THAN YOUR PARENTS, WHO'S HAD THE BIGGEST INFLUENCE ON YOUR LIFE? HOW? My cousins, probably. They motivate me to try my hardest and do my best in everything I do.
WHAT'S YOUR FAVORITE THING ABOUT TRACK? Just chillin' with everybody on the team, joking and having fun.
EVENTS: 100 and 200
WHAT APPROACH DO YOU TAKE TO YOUR EVENTS? I just come to practice and do what coach tells me to do and hopefully it'll pay off when I run my event.
WHAT DO YOU THINK OF THE SEASON SO FAR? We've had our ups and downs, ups and downs but, other than that, it's been pretty good so far.
WHAT'S BEEN THE HIGHLIGHT TO THE SEASON SO FAR? None really
WHAT'S IT GOING TO TAKE FOR THE TEAM TO BE SUCCESSFUL AT CONFERENCE AND STATE? A lot of motivation, hard work in practice and teamwork.
TALK ABOUT YOUR EVENT NOW; WHAT DO THINK IS YOUR BIGGEST ASSET? WHAT ARE YOU MOST CONFIDENT IN YOUR ABILITY TO DO? Probably just hard work when I get out there especially in the 200. That's my favorite event.
WHAT DO YOU WORK HARDEST IN PRACTICE TO IMPROVE ON? My stamina in the 200. I die when it comes to the last 50 meters.
WHEN YOU'RE THROUGH RUNNING TRACK AT BRYANT HIGH SCHOOL, WHAT DO YOU THINK YOU'LL LOOK BACK AND REMEMBER MOST FONDLY ABOUT THE EXPERIENCE? Everything, even the hard workouts. That's fun too because you're getting better. But mostly just joking around with everybody, having fun and laughing.