Editor's note: This is a regular feature profiling senior athletes at Bryant High School.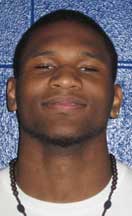 NAME: Kristopher Bazzelle
PARENTS: Ben Bazzelle and Tiffany Tucker
SIBLINGS: I have two brothers and one sister. My brother Jacolbi Johnson is 12. My sister's name is Jermana Johnson. She's 7. And I have a baby brother who just turned two months. His name is Javon.
FAVORITE SUBJECT IN SCHOOL: Transitional math
FAVORITE SPARE TIME ACTIVITY: Just hang out with friends, hang out with my father
FAVORITE FOOD: Chinese
FAVORITE MUSIC ARTIST OR GROUP: I like Hip-Hop , probably Leboeuf[more]
FAVORITE TV SHOW: Martin
WHAT WAS YOUR FAVORITE TOY AS A KID? Power Ranger action figures
WHAT ARE YOUR PLANS AFTER HIGH SCHOOL? I'm going to go to school at UALR for two years and get my basics in then transfer to UCA for architecture.
OTHER THAN YOUR PARENTS, WHO'S HAD THE BIGGEST INFLUENCE ON YOUR LIFE? HOW? My grandma was my legal guardian. She a lot for me.
WHAT'S YOUR FAVORITE THING ABOUT TRACK? I love the 4×100 team. That's my favorite thing. The high jump is pretty cool when I can get it.EVENTS? The 100, 200, 4×100 and high jump.
WHAT APPROACH DO YOU TAKE TO YOUR EVENTS? I just get my mind in the game and just take it.
WHAT DO YOU THINK OF THE SEASON SO FAR? So far, we've been doing pretty good. I can't complain. We all try our hardest. We've all tried our best. Unfortunately, we've had many injuries. But we're going to get through those and take care of business.
WHAT'S BEEN THE HIGHLIGHT TO THE SEASON SO FAR? Probably, our Bryant meet. The girls won it and we were second. We did the best we could and the 4×100 team won. Well, we got second overall but we won our heat so I was pretty proud about that.
WHAT'S IT GOING TO TAKE FOR THE TEAM TO BE SUCCESSFUL THE REST OF THE SEASON? We all need to work hard, just get our heads in the game. I believe we can take it home, we can bring it.
TALK ABOUT YOUR EVENT NOW; WHAT DO THINK IS YOUR BIGGEST ASSET? WHAT ARE YOU MOST CONFIDENT IN YOUR ABILITY TO DO? I love to run the 100. My time, from when I started to where I am now, has improved very much. In the beginning I ran a 12.3 and now I'm running like an 11.5.
WHAT DO YOU WORK HARDEST IN PRACTICE TO IMPROVE ON? I'd say, the baton work on the relay, getting that down.
WHEN YOU'RE THROUGH RUNNING TRACK AT BRYANT HIGH SCHOOL, WHAT DO YOU THINK YOU'LL LOOK BACK AND REMEMBER MOST FONDLY ABOUT THE EXPERIENCE? The people around me. They give me so much confidence. The coaches give good advice. Just the people around me that say, 'You did a good job,' even though you didn't win.