Editor's note: This is a regular feature profiling senior athletes at Bryant High School.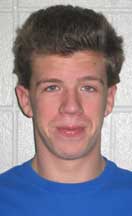 NAME: Kyle Douglas
DATE OF BIRTH: Jan. 3, 1992
PARENTS: Shawn and Angela Douglas
SIBLINGS: Mikayla Douglas
FAVORITE SUBJECT IN SCHOOL: Science
FAVORITE SPARE TIME ACTIVITY: Swimming
FAVORITE FOOD: Italian.
FAVORITE MUSIC ARTIST OR GROUP: Attack Attack[more]
FAVORITE MOVIE: Hangover
FAVORITE TV SHOW: UFC
WHAT ARE YOUR PLANS AFTER HIGH SCHOOL? College.
OTHER THAN YOUR PARENTS, WHO'S HAD THE BIGGEST INFLUENCE ON YOUR LIFE? HOW? Youth minister.
WHAT'S YOUR FAVORITE THING ABOUT SWIMMING? I feel at home.
EVENT(S): 50 free style, 100 free style, breast stroke, butterfly, 200 individual medley, 500 free.APPROACH TO YOUR EVENTS? Listen to my iPod.
WHAT DO YOU THINK OF THE SEASON SO FAR? I am getting faster
WHAT'S BEEN THE HIGHLIGHT TO THE SEASON SO FAR (team)? We are really good.
WHAT'S BEEN THE HIGHLIGHT TO THE SEASON SO FAR (personal)? I can't get enough of it
WHAT'S IT GOING TO TAKE FOR THE TEAM TO BE SUCCESSFUL THE REST OF THE SEASON? Practice harder.
TALK ABOUT YOUR GAME NOW; WHAT ARE YOU MOST CONFIDENT IN YOUR ABILITY TO DO? Being a leader.
WHAT DO YOU WORK HARDEST TO IMPROVE ON IN PRACTICE? Everything because I can not be perfect.
WHEN YOU'RE THROUGH SWIMMING FOR BRYANT HIGH SCHOOL, WHAT DO YOU THINK YOU'LL LOOK BACK AND REMEMBER MOST FONDLY ABOUT THE EXPERIENCE? That it has really helped me to not quit when things become too hard and to just deal with the pain and push through it.