Editor's note: This is a regular feature profiling senior athletes at Bryant High School.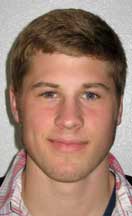 NAME: Kyle Nossaman
PARENTS: Rob and Sherry Nossaman
SIBLINGS: I have an older brother that's 21 and a younger brother who's 15. My older brother is Lucas, my younger brother is Davis.
FAVORITE SUBJECT IN SCHOOL: Math
FAVORITE SPARE TIME ACTIVITY: Mountain bike and hike
FAVORITE FOOD: Cinnamon rolls.
FAVORITE MUSIC ARTIST OR GROUP: Arcade Fire
FAVORITE MOVIE: The Dark Knight
FAVORITE TV SHOW:[more] The Office
WHAT WAS YOUR FAVORITE TOY AS A KID? Hot Wheels cars.
WHAT ARE YOUR PLANS AFTER HIGH SCHOOL? To go to Harding University and major in Kinesiology.
OTHER THAN YOUR PARENTS, WHO'S HAD THE BIGGEST INFLUENCE ON YOUR LIFE? HOW? I'd say my older brother. He went to Harding also. He kind of changed when he went to Harding and it was interesting to see. He's a real outdoors guy and that's something I like to do. That's kind of rubbed off on me.
WHAT'S YOUR FAVORITE THING ABOUT BASKETBALL? Just the atmosphere, the feeling you get. It's non-stop, basically. It's so fast and the fluid motion.
POSITION: Small forward
WHAT DO YOU FEEL LIKE YOUR RESPONSIBILITIES ARE ON THE FLOOR? I'm one of the best defenders and a big thing about me is I go after offensive rebounds. That helps us out a lot.
WHAT DO YOU THINK OF THE SEASON SO FAR? I think it's gone very well. We've had couple of games that have gone down to the wire and we just couldn't pull it out. But we've got five more games left, four home games, so anything can definitely happen. I think we have a good chance of making State. It's been a great ride.
WHAT'S BEEN THE HIGHLIGHT TO THE SEASON SO FAR? I'd say beating Central at their place. It was just a crazy atmosphere, packed gym, hot gym and we pulled out a really good win. We played a really great game.
WHAT'S IT GOING TO TAKE FOR THE TEAM TO BE SUCCESSFUL THE REST OF THE SEASON? I think just four full quarters is going to be a big thing for us, just playing consistent and not getting too high, not getting too low and just competing.
TALK ABOUT YOUR GAME NOW; WHAT ARE YOU MOST CONFIDENT IN YOUR ABILITY TO DO? Defense and especially rebounding. I've been trying to step that up more, going after every rebound and if I get tired, call for a sub. But when I'm in, definitely, fight for every one.
WHAT DO YOU WORK HARDEST TO IMPROVE ON IN PRACTICE? I'd say, just consistency, like limiting turnovers and hustle.
YOU AND HOUSTON (GARNER) HAVE BEEN IN A UNIQUE SITUATION WHERE YOU'VE HAD THREE COACHES IN THREE YEARS. WHAT'S THAT BEEN LIKE? It's been interesting. It's been good for me because I want to be a high school basketball coach. I've seen three different types and I can tell which ones have worked better than others. It's been very helpful to me. It's a little hard because once we get used to a system we had to change. But it's helped us learn quicker.
YOU PLAY TENNIS AND SOCCER TOO. WHAT ARE THE THINGS ABOUT THOSE SPORTS THAT YOU ENJOY THE MOST? Tennis is just a fun sport. It's not like my main sport but it's a lot of fun to just get out there and hit a ball and just kind of enjoy the weather. Soccer, it's always been a pretty big passion of mine. It's a lot of fun just to get out there with a group of guys and just have some fun, playing some soccer. Basketball, I just enjoy the game more than the others. I enjoyed playing it. I never dread practice, never dread workouts, anything. It's just so different from all the other sports. It's so close, so quick.
WHEN YOU'RE THROUGH PLAYING BASKETBALL AT BRYANT HIGH SCHOOL, WHAT DO YOU THINK YOU'LL LOOK BACK AND REMEMBER MOST FONDLY ABOUT THE EXPERIENCE? Just the relationships with the teammates, I think. From sophomore year to senior year, I've made some great friends. Some that went on, some that are sophomores now, some that are juniors. I think that's what I'll remember, the bus rides up and back, just enjoying each other's company and having fun and working hard for each other.