Editor's note: This is a regular feature profiling senior athletes at Bryant High School.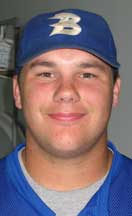 NAME: Landon Pickett
PARENTS: Phil and Michelle Pickett
SIBLINGS: Tyler Pickett. He's 22.
FAVORITE SUBJECT IN SCHOOL: History
WHAT DO YOU LIKE TO DO IN YOUR SPARE TIME? Hang out with friends and play video games
FAVORITE FOOD: Ribs
FAVORITE MUSIC ARTIST OR GROUP: Country
FAVORITE MOVIE: Glory Road[more]
FAVORITE TV SHOW: Mythbusters
WHAT WAS YOUR FAVORITE TOY AS A KID? Probably a bat and a ball
WHAT ARE YOUR PLANS AFTER HIGH SCHOOL? To go to college and play baseball somewhere. I'm going to try to major in accounting.
OTHER THAN YOUR PARENTS, WHO HAS HAD THE BIGGEST INFLUENCE ON YOUR LIFE? My brother. He's always pushes me no matter what to be better at everything, in the classroom, in sports. He pushes me because he knows I can do good things if I just had a better work ethic.
FAVORITE THING ABOUT BASEBALL: Hitting
POSITION: First base
WHAT'S YOUR APPROACH TO THE GAME IN THE FIELD AND AT THE PLATE? In the field, just get in front of everything, nothing gets past me. When I'm just catching balls at first, just catch everything no matter what. And hitting, try to find my pitch, look for a pitch I can drive in a gap somewhere, try to go oppo, keep my hands inside the ball.
WHAT DO YOU THINK OF THE SEASON SO FAR? We've done pretty good. We're hitting well this year with pitching and defense. If we can keep it up, I think we can do real well.
WHAT'S BEEN THE HIGHLIGHT TO THE SEASON SO FAR? The Florida tournament. It was a lot of fun.
WHAT'S IT GOING TO TAKE FOR THE TEAM TO BE SUCCESSFUL THE REST OF THE SEASON? We don't need to get complacent where we're at. Just keep getting better every day because you can always get better at everything. So, just keep getting better, keep hitting, keep pitching, keep fielding.
INDIVIDUALLY, WHAT ABOUT YOUR GAME ARE YOU MOST CONFIDENT ABOUT? My hitting.
WHAT DO YOU WORK HARDEST TO IMPROVE? My hitting.
AFTER YOU'RE THROUGH PLAYING BASEBALL AT BHS, WHAT DO YOU THINK YOU'LL REMEMBER MOST FONDLY ABOUT IT? Just playing in the games, the thrill of getting a big hit in a big situation.