Editor's note: This is a regular feature profiling senior athletes at Bryant High School.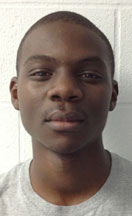 NAME: Lester Lowery
PARENTS: Wanda Davis
SIBLINGS: None
FAVORITE SUBJECT IN SCHOOL: Science

FAVORITE SPARE TIME ACTIVITY: Hang with friends and family, and workout.

FAVORITE FOOD: Everything
FAVORITE MUSIC ARTIST OR GROUP: Lecrae
FAVORITE MOVIE: Courageous[more]
FAVORITE TV SHOW: House of Payne
WHAT WAS YOUR FAVORITE TOY AS A KID? A basketball
WHAT ARE YOUR PLANS AFTER HIGH SCHOOL? I'm going to college. I going to go to Pulaski Tech first and get the basics out of the way then go to UALR and major in Biology.

OTHER THAN YOUR PARENTS, WHO'S HAD THE BIGGEST INFLUENCE ON YOUR LIFE? HOW? That would be my youth pastor, Brother Michael. He's helped me become a man. Since I didn't have the father figure in my life, he's helped me.
WHAT'S YOUR FAVORITE THING ABOUT TRACK? Sprints
EVENTS? The 100, 200, 400 and 4×400
WHAT APPROACH DO YOU TAKE TO YOUR EVENTS? My approach is to run fast every time.
WHAT DO YOU THINK OF THE SEASON SO FAR? I think we're doing pretty good this season, really good.
WHAT'S BEEN THE HIGHLIGHT OF THE SEASON SO FAR? We've all been putting up points and my friend, Spencer Sullivan here, has the record here in the 300 meter hurdles. We've been doing pretty good.
WHAT'S IT GOING TO TAKE FOR THE TEAM TO BE SUCCESSFUL AT THE REST OF THE SEASON? Keep working hard; we have to stay healthy and, other than that, keep going, don't stop. The harder we train the better we'll get there.
TALK ABOUT YOUR EVENT NOW; WHAT DO YOU THINK IS YOUR BIGGEST ASSET? WHAT ARE YOU MOST CONFIDENT IN YOUR ABILITY TO DO? In the 4×400, since it's a team effort, so when it's your turn to get that baton, it helps you push forward and it makes you give it all that you have because it not only depends on you, it also depends on the team.
WHAT DO YOU WORK HARDEST IN PRACTICE TO IMPROVE ON? I want to build up my speed more and work on my blocks more.
WHEN YOU'RE THROUGH RUNNING TRACK AT BRYANT HIGH SCHOOL, WHAT DO YOU THINK YOU'LL LOOK BACK AND REMEMBER MOST FONDLY ABOUT THE EXPERIENCE? Just about everything, especially here at the fieldhouse, hanging with all these guys here. That's something to cherish right there.