Editor's note: This is a regular feature profiling senior athletes at Bryant High School.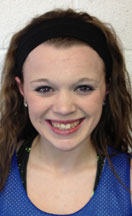 NAME: Logan Davis
PARENTS: Brett and Rebecca Davis
SIBLINGS: I have a younger sister named Skylar. She's 15.
FAVORITE SUBJECT IN SCHOOL: Probably History
FAVORITE SPARE TIME ACTIVITY: Shop and hang out with my friends.
FAVORITE FOOD: Lasagna
FAVORITE MUSIC ARTIST OR GROUP: Hunter Hayes
FAVORITE MOVIE: Pitch Perfect[more]
FAVORITE TV SHOW: Big Bang Theory
WHAT WAS YOUR FAVORITE TOY AS A KID? I had a horse I used to ride around all the time when I was little.
WHAT ARE YOUR PLANS AFTER HIGH SCHOOL? Go to UCA and become a Physical Therapist.
OTHER THAN YOUR PARENTS, WHO'S HAD THE BIGGEST INFLUENCE ON YOUR LIFE? HOW? It'd probably be my best friend Mary who has always been there for me and always pushed me to become better than what I am.
WHAT'S YOUR FAVORITE THING ABOUT BASKETBALL? To be with a group of girls that I can call my family and work as a team instead of me being by myself.
POSITION: Guard
WHAT DO YOU FEEL LIKE YOUR RESPONSIBILITIES ARE? To just kind of control the game and to help my team score on the outside.
WHAT DO YOU THINK OF THE SEASON SO FAR? The scores and stuff don't really matter but, honestly, I think our team has come together better than it has in the past so I kind of enjoy it.
WHAT'S BEEN THE HIGHLIGHT TO THE SEASON SO FAR? In Texas, I scored five 3's so that was a pretty big thing for me.
WHAT'S IT GOING TO TAKE FOR THE TEAM TO BE SUCCESSFUL THE REST OF THE SEASON? To stick together and not fall apart, no drama. I think if we just keep playing just with the winning confidence, we'll be all right.
TALK ABOUT YOUR GAME NOW; WHAT ARE YOU MOST CONFIDENT IN YOUR ABILITY TO DO? My shooting outside.
WHAT DO YOU WORK HARDEST TO IMPROVE ON IN PRACTICE? Driving to the basket and going off two feet.
WHEN YOU'RE THROUGH PLAYING BASKETBALL AT BRYANT HIGH SCHOOL, WHAT DO YOU THINK YOU'LL LOOK BACK AND REMEMBER MOST FONDLY ABOUT THE EXPERIENCE? Just the good memories that I had and the bus rides.