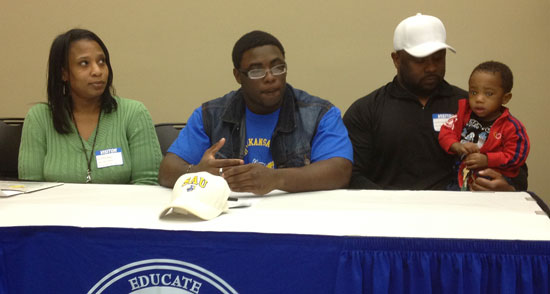 By Rob Patrick
When Tyree Reese arrived at his first workout at Bryant High School after transferring[more] in, prior to his junior year, he admits he had some reservations.
"We were in the weight room," he recalls, "and I was just like, 'Man, do I really want to be here?'"
"He wasn't so sure at first," acknowledged Hornets coach Paul Calley, "but, man, when he bought in . . ."
"I just put in the work and gave the dedication and, after a while, it started to pay off," Reese continued. "It definitely paid off."
Paid off, indeed.
On Wednesday, Feb. 6, National signing day, Reese committed to a scholarship offer to continue his football career and education at Southern Arkansas University in Magnolia.
It was a welcome development for the Hornets' middle linebacker.
"I got hurt during the middle of the season so I was having a hard time and I didn't hear from a lot of people," Reese related. "I didn't really hear from anybody until late last week.
"It developed real, real quick," he continued. "I just visited SAU this past Saturday. They had called me last Thursday and said they wanted me to come take a visit. I went and talked to the coaches, got a chance to talk to a couple of players."
That included former Bryant teammate Karon Dismuke, a running back, who signed with the Muleriders last year.
"I asked him how the school was and I got a lot of feedback that I liked very much," Reese said. "I like the campus so I decided to commit. Out of the schools that did contact me, I felt like SAU was the best place for me."
After leading the team in tackles with 98 including 51 unassisted and four sacks as a junior, Reese suffered an injury midway through his senior year. The strained Achilles tendon bothered him even after he came back to try to help the team down the stretch and in a playoff game against Cabot.
He wound up fourth on the team in stops with 57 anyway. He had also helped out in short-yardage situations on offense up that point, rushing for 26 yards on seven carries but scoring five touchdowns.
"Tyree came to us from Little Rock Central and I thought when he first walked in that he had the body to play college football," Calley said. "He's built perfectly for a fullback or a linebacker. His work ethic improved every day that he was here. He was eager to get better, eager to learn.
"I don't think we've ever had a more explosive player on his first step than Tyree," the coach declared. "I think he can definitely contribute next year on special teams and I think he's going to be an asset to Southern Arkansas."
Asked what the SAU coaches had told him they expect, Reese said, "They told me just to come in and work hard. I've a got a chance to start as a true freshman."
All a player can ask for is a chance and now Tyree Reese has one at the college level.