Editor's note: This is a regular feature profiling senior athletes at Bryant High School.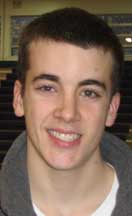 NAME: Logan Trudell
PARENTS: Dana and Michael Bailey
SIBLINGS: None.
FAVORITE SUBJECT IN SCHOOL: Math
FAVORITE SPARE TIME ACTIVITY: Hang out with friends and play video games a little bit.
FAVORITE FOOD: Chicken
FAVORITE MUSIC ARTIST OR GROUP: Don't really have one
FAVORITE MOVIE: None[more]
FAVORITE TV SHOW: I like That 70's Show
WHAT WAS YOUR FAVORITE TOY AS A KID? I had a little kiddie swimming pool. I liked to be in that all the time.
WHAT ARE YOUR PLANS AFTER HIGH SCHOOL? I plan to attend the University of Arkansas.
OTHER THAN YOUR PARENTS, WHO'S HAD THE BIGGEST INFLUENCE ON YOUR LIFE? HOW? My grandfather. I lived with him a couple of years and he's always been there for me. He's my dad figure when I was growing up. I didn't have a dad growing up so he took the role.
WHAT'S YOUR FAVORITE THING ABOUT BASKETBALL? Just the team bond. I love my teammates.
POSITION: Small forward
WHAT DO YOU FEEL LIKE YOUR RESPONSIBILITIES ARE? To lead my team as a senior and do what I can when I'm on the court.
WHAT DO YOU THINK OF THE SEASON SO FAR? Pre-conference we did pretty good. We won a tournament but conference we're struggling. But we still have a chance to make the State tournament. We've got plenty of time. We need to get a couple of key wins here at home.
WHEN THE TEAM'S PLAYING WELL, WHAT'S IT DOING? Everything's going our way. We're shooting the ball. We're playing good defense. Everything. We can't be stopped.
WHAT'S BEEN THE HIGHLIGHT TO THE SEASON SO FAR? We beat Benton twice.
WHAT'S IT GOING TO TAKE FOR THE TEAM TO BE SUCCESSFUL THE REST OF THE SEASON? We've got to buy into Coach (Mike Abrahamson). Our main trouble is just buying into Coach. He tells us what we need to do, we just need to do it. He has a game plan for every game. We've just got to go out there and do it.
TALK ABOUT YOUR GAME NOW; WHAT ARE YOU MOST CONFIDENT IN YOUR ABILITY TO DO? My shooting.
WHAT DO YOU WORK HARDEST TO IMPROVE ON IN PRACTICE? My defense.
WHEN YOU'RE THROUGH PLAYING BASKETBALL AT BRYANT HIGH SCHOOL, WHAT DO YOU THINK YOU'LL LOOK BACK AND REMEMBER MOST FONDLY ABOUT THE EXPERIENCE? It's the team.