Editor's note: This is a regular feature profiling senior athletes at Bryant High School.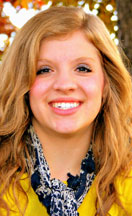 NAME: Madeline McGee
PARENTS' NAMES: Earnie and Tamela McGee
SIBLINGS: Abigail McGee, 14
FAVORITE SUBJECT IN SCHOOL: English
FAVORITE SPARE TIME ACTIVITY: Singing, Tumbling, and Art
FAVORITE FOOD: Nutella
FAVORITE MUSIC ARTIST OR GROUP: John Mayer
FAVORITE MOVIE: The Notebook[more]
FAVORITE TV SHOW: Criminal Minds
FAVORITE TOY AS A KID: Ringo, my beanie baby
WHAT ARE YOUR PLANS AFTER HIGH SCHOOL?
Attend the University of Arkansas at Little Rock, continue cheering through college, and become a business representative.
OTHER THAN YOUR PARENTS, WHO HAS HAD THE BIGGEST INFLUENCE ON YOUR LIFE? HOW?
Numerous leaders within my church have set great examples for me and have always been there to give me advice.
FAVORITE THING ABOUT CHEER:
My favorite thing about cheer is landing a perfect tumbling pass.
WHAT DO YOU FEEL IS YOUR RESPONSIBILITY ON THE TEAM?
I see my responsibility as setting the example as an upper classman, consistently throwing my tumbling, respecting my coaches, and giving everything my all.
THOUGHTS ON SEASON SO FAR:
I'm very proud of our squad and this season we've stepped up our difficulty level and did our very best at State.
WHAT'S BEEN THE HIGHLIGHT TO THE SEASON SO FAR?
Being able to look back and see how much we've improved our routine from the beginning has been the highlight of the year for me.
WHAT'S IT GOING TO TAKE FOR THE TEAM TO BE SUCCESSFUL AT NATIONALS?
Practicing our routine like we're performing it … every time.
INDIVIDUALLY, WHAT ABOUT YOUR PERFORMANCES ARE YOU MOST CONFIDENT ABOUT?
Landing my full during the routine is the best boost of confidence I could ever have.
WHAT DO YOU WORK HARDEST TO IMPROVE?
I always work to improve my overall enthusiasm and energy during the routine. If I do that well, the rest of the routine is great!
AFTER YOU'RE THROUGH CHEERING AT BHS, WHAT DO YOU THINK YOU'LL REMEMBER MOST FONDLY ABOUT IT?
Cheering at Friday night football games and being a part of encouraging the football players to do their best is one of the most rewarding feelings in being a cheerleader at Bryant High School.