Editor's note: This is a regular feature profiling senior athletes at Bryant High School.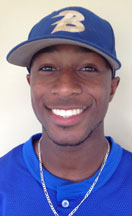 NAME: Marcus Wilson
PARENTS: Valoria Wilson
SIBLINGS: One brother, Willie Wilson. He's 25.
FAVORITE SUBJECT IN SCHOOL: Math
WHAT DO YOU LIKE TO DO IN YOUR SPARE TIME? Hang out with my friends.
FAVORITE FOOD: Grilled shrimp
FAVORITE MUSIC ARTIST OR GROUP: Rap
FAVORITE MOVIE: 42[more]
FAVORITE TV SHOW: ESPN
WHAT WAS YOUR FAVORITE TOY AS A KID? Any kind of ball
WHAT ARE YOUR PLANS AFTER HIGH SCHOOL? Attend Arkansas Tech University, play college baseball and study Physical Health and Education.
OTHER THAN YOUR PARENTS, WHO HAS HAD THE BIGGEST INFLUENCE ON YOUR LIFE? My grandparents; just the way they raised me. They always wanted me to do my best at anything I did. They support me 100 percent in anything I do.

FAVORITE THING ABOUT BASEBALL: Just being out and playing the game first of all. And getting to come out here and being able to play with your best friends, compete and try to win games.

POSITION: Left field
WHAT'S YOUR APPROACH AT THE PLATE? Try to square every pitch up and have a productive at-bat every single time.
WHAT'S YOUR APPROACH IN THE FIELD? To catch everything that comes my way.
WHAT DO YOU THINK OF THE SEASON SO FAR? I think it's going really good right now. We had a really slow start but everybody's really getting acquainted with each other well and we're playing as a team. It's coming along really good.
WHAT'S BEEN THE HIGHLIGHT TO THE SEASON SO FAR? Beating Benton the second time and beating some really good teams in Florida.
WHAT'S IT GOING TO TAKE FOR THE TEAM TO BE SUCCESSFUL THE REST OF THE SEASON? The first thing is we have to stay focused. We can't get distracted by anything. We have to play as a team and communicate well, just play with a lot of confidence.
TALK ABOUT YOUR GAME: WHAT DO YOU FEEL MOST CONFIDENT IN YOUR ABILITY TO DO? My hitting.

WHAT DO YOU WORK HARDEST TO IMPROVE ON IN PRACTICE? My fielding skills.
AFTER YOU'RE THROUGH PLAYING BASEBALL AT BHS, WHAT DO YOU THINK YOU'LL REMEMBER MOST FONDLY ABOUT IT? Winning the two State championships here and just how much fun I've had with my friends on the team and how much our coaches have influenced me on my life. They've always pushed us. And sometimes you think that they're wrong and they're on you too hard but, down the road, I think it'll help me out a lot to become a better young man.