Editor's note: This is a regular feature profiling senior athletes at Bryant High School.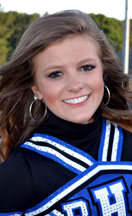 NAME: Meredith Herring

PARENTS' NAME: Mark and Ginie Herring

SIBLINGS (NAMES/AGES): None

FAVORITE SPARE TIME ACTIVITY: Working out, dancing and pinning on Pinterest

FAVORITE FOOD: Pasta

FAVORITE MUSIC ARTIST OR GROUP: Taylor Swift
FAVORITE MOVIE: How to Lose a Guy in Ten Days

FAVORITE TV SHOW: Criminal Minds[more]

WHAT WAS YOUR FAVORITE TOY AS A KID? "The Rat" (stuffed animal)

WHAT ARE YOUR PLANS AFTER HIGH SCHOOL? I plan to attend UCA and major in Speech-Language Pathology with a minor in Spanish Language. I also hope to become a member of the UCA Honeybears Dance Team.

OTHER THAN YOUR PARENTS, WHO HAS HAD THE BIGGEST INFLUENCE ON YOUR LIFE? HOW? My Babaw (Grandpa), his struggle with cancer taught me to never give up, even when things aren't going your way.

FAVORITE THING ABOUT DANCE: The friendships, memories I've made and the life lessons I've learned from dance team over the years.

WHAT DO YOU FEEL IS YOUR RESPONSIBILITY ON THE TEAM? THOUGHTS ON SEASON SO FAR: To encourage everyone to do their very best. I also make decisions on uniforms and send out all correspondence for team through group text messages. We have had a very strong and successful competition season.

WHAT'S BEEN THE HIGHLIGHT TO THE SEASON SO FAR? Winning State, winning first in every routine at all four competitions, and winning Grand Champions in all four routines at Bentonville Invitational.

WHAT'S IT GOING TO TAKE FOR THE TEAM TO BE SUCCESSFUL AT NATIONALS? We have to go out on the floor being sharper than ever, 100 percent synchronized, hit all of our technique and have great showmanship!

INDIVIDUALLY, WHAT ABOUT YOUR PERFORMANCES ARE YOU MOST CONFIDENT ABOUT? Jumps and arm motions in Pom.

WHAT DO YOU WORK HARDEST TO IMPROVE? Pirouettes and fouettés turns

AFTER YOU'RE THROUGH DANCING AT BHS, WHAT DO YOU THINK YOU'LL REMEMBER MOST FONDLY ABOUT IT? The friendships I have made with all the girls, but especially those with my fellow seniors whom I have been dancing with since seventh grade. Our team is just like one big happy family, we are all sisters.