Editor's note: This is a regular feature profiling senior athletes at Bryant High School.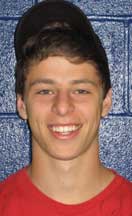 NAME: Michael Smith
PARENTS: Debbie Smith and Shawn Smith
SIBLINGS: One, Will. He's seven-months old
FAVORITE SUBJECT IN SCHOOL: Track
FAVORITE SPARE TIME ACTIVITY: Drive four-wheelers and work on my truck.
FAVORITE FOOD: Mexican
FAVORITE MUSIC ARTIST OR GROUP: I don't really have a favorite one. I listen to 107.7 a lot though.[more]
FAVORITE MOVIE: Iron Man
FAVORITE TV SHOW: Rob Dyrdek's Fantasy Factory
WHAT WAS YOUR FAVORITE TOY AS A KID? Hot Wheels cars. Those were my favorites
WHAT ARE YOUR PLANS AFTER HIGH SCHOOL? I plan on going to UALR and walking on the track team and maybe running the 800. I'm just going to go the first two years and get the basics then figure out what to study while I'm there.
OTHER THAN YOUR PARENTS, WHO'S HAD THE BIGGEST INFLUENCE ON YOUR LIFE? HOW? I think my friend's dad, Steve Bowden. He's always there to help out. He comes to my meets and watches me and gives support when he doesn't really have to because he's not one of my parents. But he's always been there for me.
WHAT'S YOUR FAVORITE THING ABOUT TRACK? It's fun. There's a lot of good people in it. It's competitive, always pushing yourself to do your best.
EVENTS? I run the 800 meter run and the 4×400 meter relay.
WHAT APPROACH DO YOU TAKE TO YOUR EVENTS? I usually jog for about eight minutes then do some dynamic stretches then get in the zone, I'd guess you'd say, to run.
WHAT DO YOU THINK OF THE SEASON SO FAR? I think we've had a pretty good season. There haven't been a lot of p.r.'s this year but I think we've done pretty good overall.
WHAT'S BEEN THE HIGHLIGHT TO THE SEASON SO FAR? That'd be the State meet indoor. I got second place in the 800.
WHAT'S IT GOING TO TAKE FOR THE TEAM TO BE SUCCESSFUL THE REST OF THE SEASON? I think we'll have to have a lot of guys get disciplined and actually run and show up the practice like it's supposed to be. Eat healthy, do the right things, work hard.
TALK ABOUT YOUR EVENT NOW; WHAT DO THINK IS YOUR BIGGEST ASSET? WHAT ARE YOU MOST CONFIDENT IN YOUR ABILITY TO DO? I think I've got pretty good endurance and I've got decent speed. It works good for the 800, a little of both.
WHAT DO YOU WORK HARDEST IN PRACTICE TO IMPROVE ON? Every week in the workouts I try to run them a little faster than I did the week before and improve in that way.
WHEN YOU'RE THROUGH RUNNING TRACK AT BRYANT HIGH SCHOOL, WHAT DO YOU THINK YOU'LL LOOK BACK AND REMEMBER MOST FONDLY ABOUT THE EXPERIENCE? I don't know. I'm sure I'll remember it and I'll miss it a lot, high school track. It's always been fun. I've been in this group for four years now. I look back to the people and the practices and Coach (Steve) Oury.