Editor's note: This is a regular feature profiling senior athletes at Bryant High School.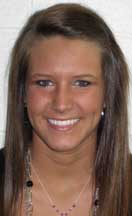 NAME: Morgan Humbard
PARENTS: Jack and Melissa Humbard
SIBLINGS: I have a brother and a sister. My brother's name is Alan and he's 16. My sister's name is Madison and she's 10.
FAVORITE SUBJECT IN SCHOOL: Science
FAVORITE SPARE TIME ACTIVITY: Hang out with my friends
FAVORITE FOOD: Chinese
FAVORITE MUSIC ARTIST OR GROUP: I like Country music.
FAVORITE MOVIE: The Proposal[more]
FAVORITE TV SHOW: Jersey Shore
WHAT WAS YOUR FAVORITE TOY AS A KID? I had this look-alike American Girl doll and that was my favorite.
WHAT ARE YOUR PLANS AFTER HIGH SCHOOL? I plan on going to UCA and doing four years of athletic training and then three years of physical therapy and then I'm going to be a physical therapist.
OTHER THAN YOUR PARENTS, WHO'S HAD THE BIGGEST INFLUENCE ON YOUR LIFE? HOW? Probably my grandma just because she's always there for me and she's always encouraging.
EVENTS? I run 300 meter hurdles and 100 meter hurdles.
WHAT APPROACH DO YOU TAKE TO YOUR EVENTS? For the 300 meter hurdles I just have to think about not giving up because it's kind of a long ways to jump over hurdles so, usually when I get to the last straightaway I'm just thinking in my head that I'm almost done so it kind of pushes me to finish.
WHAT DO YOU THINK OF THE SEASON SO FAR? The season, actually, has been really good. We're all encouraging of each other and we just work together. And even if some things don't come out the way that we play, we still stick together as a team.
WHAT'S BEEN THE HIGHLIGHT TO THE SEASON SO FAR? Probably winning our home meet like we did last year. It just kind of built all of our confidence and got us ready for the rest of the meets in the season.
WHAT'S IT GOING TO TAKE FOR THE TEAM TO BE SUCCESSFUL THE REST OF THE SEASON? Just to work together as a team and not to give up, to practice hard and do what we're able to do.
TALK ABOUT YOUR EVENT NOW; WHAT DO THINK IS YOUR BIGGEST ASSET? WHAT ARE YOU MOST CONFIDENT IN YOUR ABILITY TO DO? I think my strength in hurdles is I'm pretty good once I get close to the hurdles. I start out at a normal speed then as I approach the hurdle I get more aggressive so it helps me to go over them easier.
WHAT DO YOU WORK HARDEST IN PRACTICE TO IMPROVE ON? We do a lot of sprint workouts to build the muscles in our legs and to stop that lactic acid build-up. So (Coach Dan Westbrook) makes us practice and do these workouts to where when we're really tired, we have to make our legs — get in our minds to make our legs go and to not give up.
WHEN YOU'RE THROUGH RUNNING TRACK AT BRYANT HIGH SCHOOL, WHAT DO YOU THINK YOU'LL LOOK BACK AND REMEMBER MOST FONDLY ABOUT THE EXPERIENCE? I'm going to remember the times that we won and the times that we worked together the hardest. And the girls that I'm close with, I'll probably never forget the relationships that I had with them.