Editor's note: This is a regular feature profiling senior athletes at Bryant High School.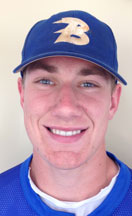 NAME: Nate Rutherford

PARENTS: Robbie and Randy Rutherford

SIBLINGS: None

FAVORITE SUBJECT IN SCHOOL: Math
WHAT DO YOU LIKE TO DO IN YOUR SPARE TIME? Hang out with my friends.
FAVORITE FOOD: Chicken Alfredo
FAVORITE MUSIC ARTIST OR GROUP: Rap
FAVORITE MOVIE: Coach Carter[more]
FAVORITE TV SHOW: Sportscenter
WHAT WAS YOUR FAVORITE TOY AS A KID? Swings
WHAT ARE YOUR PLANS AFTER HIGH SCHOOL? Play college baseball. I'm not sure where I'm going to go or what I'm going to study yet.
OTHER THAN YOUR PARENTS, WHO HAS HAD THE BIGGEST INFLUENCE ON YOUR LIFE? My grandfather; he's always been there for me. He really gave me my first love for the game when I was little. He was always a coach for a bunch of different sports and he's been at every game I've ever played pretty much.
FAVORITE THING ABOUT BASEBALL: I like to pitch.
POSITIONS: Pitcher
WHAT'S YOUR APPROACH ON THE MOUND? You've got to live low, shoot knees and just throw a lot of strikes.
WHAT DO YOU THINK OF THE SEASON SO FAR? I think we've started to come together ever since we went to Florida, it's kind of all clicked for us. Our pitching's been really good. We've been able to go deep into games and throw a lot of strikes. Hitting-wise, we're starting to bang. We're probably averaging nine or 10 hits a game. With that kind of hitting and the kind of defense we have, you can't stop it.
WHAT'S BEEN THE HIGHLIGHT TO THE SEASON SO FAR? Probably going to Florida where it all clicked. I think those two games against Poly Prep (of Brooklyn, N.Y.) were really big for us. Also, beating Benton was big. Beating them by five runs, you don't see that very often.
WHAT'S IT GOING TO TAKE FOR THE TEAM TO BE SUCCESSFUL THE REST OF THE SEASON? We've just got to keep hitting. The pitchers have to keep going deep in ballgames. You can't get out of the game early. Your job as a pitcher is to keep the team in the game. With us, if you can keep them under two, three runs, you're going to win.

TALK ABOUT YOUR GAME: WHAT DO YOU FEEL MOST CONFIDENT IN YOUR ABILITY TO DO? Throwing my fastball.
WHAT DO YOU WORK HARDEST TO IMPROVE ON IN PRACTICE? Mechanics
AFTER YOU'RE THROUGH PLAYING BASEBALL AT BHS, WHAT DO YOU THINK YOU'LL REMEMBER MOST FONDLY ABOUT IT? I'll remember the State championship game, junior year.