Editor's note: This is a regular feature profiling senior athletes at Bryant High School.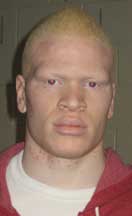 NAME: O'Dell Lee
PARENTS: Michael Qualls
SIBLINGS: None
FAVORITE SUBJECT IN SCHOOL: Western Civ, History
FAVORITE SPARE TIME ACTIVITY: Watch TV, work out every now and then, and just relax.
FAVORITE FOOD: Steak
FAVORITE MUSIC ARTIST OR GROUP: I'd have to say Garth Brooks.[more]
FAVORITE MOVIE: I don't have one.
FAVORITE TV SHOW: How I Met Your Mother.
WHAT WAS YOUR FAVORITE TOY AS A KID? A remote control truck
WHAT ARE YOUR PLANS AFTER HIGH SCHOOL? I'm going to attend OBU, major in Business Management, Accounting and Finance.
OTHER THAN YOUR PARENTS, WHO'S HAD THE BIGGEST INFLUENCE ON YOUR LIFE? HOW? My coach, Paul Mead. He provides a lot of things for me, helps with my wrestling. He's just like a father figure for me.
WHAT'S YOUR FAVORITE THING ABOUT WRESTLING? Just being the only one out there getting the victory at the end of it and no one taking the glory for my work.
WHAT'S YOUR WEIGHT CLASS? 195. After January, it became 197. You get a two-pound allowance.
WHAT'S YOUR APPROACH TO A MATCH? I don't think about who I'm wrestling or what they've done in the past. I just go out there and wrestle like I wrestle everybody else, like it's the finals match.
WHAT'S BEEN THE HIGHLIGHT TO THE SEASON SO FAR? For me, I think it's just the fact that I'm actually offensive this year and I've been more on the initiative, just doing more of the action in the match and not letting anyone take control of it.
WHAT'S IT GOING TO TAKE FOR THE TEAM TO BE SUCCESSFUL AT STATE? If all our guys are focused and get their head in the game and think about how they're going to go out there and accomplish what they need to accomplish to help the team and get us points and, if we just work as hard as we can, we should be able place high in the state.
WHAT ARE YOU MOST CONFIDENT IN YOUR ABILITY TO DO? I try to be confident in everything I do. My favorite position is being down because I'm really confident that no one can really turn me or expose me to my back. So if I ever get winded or tired, I choose down. That gives me a little breather, a little break to relax that way.
WHAT DO YOU WORK HARDEST TO IMPROVE ON IN PRACTICE? Just quickness, technique and executing the move at the right time.
WHEN YOU'RE THROUGH WRESTLING AT BRYANT HIGH SCHOOL, WHAT DO YOU THINK YOU'LL LOOK BACK AND REMEMBER MOST FONDLY ABOUT THE EXPERIENCE? The guys on the team and how they were energetic, and that it was just awesome to be on the team with them.