Editor's note: This is a regular feature profiling senior athletes at Bryant High School.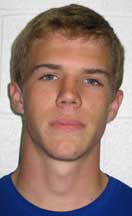 NAME: Reed Evans
PARENTS: My mon's name is Nan and my dad's name is Chris.
SIBLINGS: Two brothers, one older. His name is Brandon. He's 22. And a younger brother, Cole, who's 15.
FAVORITE SUBJECT IN SCHOOL: History
WHAT DO YOU LIKE TO DO IN YOUR SPARE TIME? Relax and hang out with friends.
FAVORITE FOOD: Mexican
FAVORITE MUSIC ARTIST OR GROUP: I don't have one right now.
FAVORITE MOVIE: Goal.[more]
FAVORITE TV SHOW: Rob Dyrdek's Fantasy Factory
WHAT WAS YOUR FAVORITE TOY AS A KID? Probably a little dumptruck.
WHAT ARE YOUR PLANS AFTER HIGH SCHOOL? Play collegiate soccer. I'm not sure what I want to study.
OTHER THAN YOUR PARENTS, WHO HAS HAD THE BIGGEST INFLUENCE ON YOUR LIFE? I'd say my older brother, just watching him as he's grown up, what to do and what not to do.
FAVORITE THING ABOUT SOCCER: To win is a big thing and just playing with everybody and having fun.
POSITION: I play center back, center defender for the high school. I like to play on the outside.
WHAT DO YOU FEEL LIKE IS YOUR PRIMARY RESPONSIBILITY ON THE FIELD? To be the foundation of the defense and help lead people.
WHAT DO YOU THINK OF THE SEASON SO FAR? We've had some unlucky breaks but as a team I think we're a lot better than we were last year so we should be good.
WHAT'S BEEN THE HIGHLIGHT TO THE SEASON SO FAR? For myself, it was beating Rogers in the semifinals of the Texarakana tournament. I scored two goals myself.
WHAT'S IT GOING TO TAKE FOR THE TEAM TO BE SUCCESSFUL THE REST OF THE SEASON? Not give up. We've got to keep pushing and fighting, not to hang your head down whenever we lose.
INDIVIDUALLY, WHAT ABOUT YOUR GAME ARE YOU MOST CONFIDENT ABOUT? Just leading people, telling them what to do and then I would say just distributing the ball to other people and keeping it solid in the back.
WHAT DO YOU WORK HARDEST TO IMPROVE? Mainly my touch work and then just communication is a big thing also.
AFTER YOU'RE THROUGH PLAYING SOCCER AT BHS, WHAT DO YOU THINK YOU'LL REMEMBER MOST FONDLY ABOUT IT? Just four years of having a great time, just having fun with meeting new people and just becoming really close to everybody on the team.