By Rob Patrick
Photos by Kevin Nagle
Friday's 7A/6A-Central Conference doubleheader between the Bryant Hornets and the Cabot Panthers turned out to be all about[more] finishing. In particular, finishing by a couple of pitchers. In the first game, it was Bryant right-hander Jordan Taylor who worked four innings of one-hit relief to finish off a 3-2 victory. In the second, it was Cabot right-hander Cole Nicholson who worked out of trouble in the sixth and seventh innings to finish off a 4-2 win for the Panthers.
The loss was Bryant's first in league play. The Hornets are in a virtual tie with Little Rock Catholic for first place in the conference. The Rockets are 4-2 to the Hornets' 3-1. Cabot improved to 2-2 in league play, tied with Conway, Russellville (both 2-2) and North Little Rock (1-1) in second place. Russellville and North Little Rock play a conference doubleheader on Saturday.
The Hornets are 12-3 overall going into a noon game on Saturday at Texarkana.
In the opener, Bryant scored all three of its runs and cracked four of the five hits it had in the game in the first inning.
Cabot rallied for two runs in the top of the third and had the bases loaded when Bryant starter Dylan Cross escaped by striking out Casey Vaughan to keep it 3-2.
Taylor took over in the fourth and dueled with Cabot starter Ryan Logan who found his stride and kept the Hornets off theirs the rest of the way. After Josh Pultro singled to lead off the second, Bryant couldn't must another hit.
"Jordan shut them down," acknowledged Hornets coach Kirk Bock. "He did a great job. And their pitcher got us out of our rhythm with the way he changed speeds."
In the second game, one rugged inning in which Cabot scored three times proved to be more than Hornets' starter Caleb Milam could allow as Nicholson shackled the Hornets on two hits through five innings. Bryant rallied for two in the sixth and had the potential tying runs on base when Nicholson escaped. And, in the seventh, he forced the Hornets to strand the potential tying runs as well.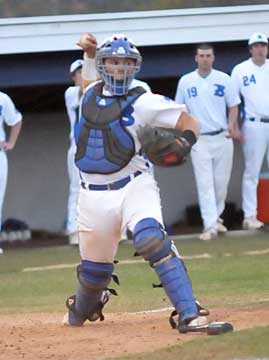 "We just didn't play with any intensity until the sixth and seventh inning," stated Bock. "I'm not saying we didn't play hard. We didn't play with any intensity. And that's what I was telling these guys, it's hard to turn that dad-gum switch on. You better turn it on when you get here and leave it on.
"And we didn't have a good approach at the plate," he added. "We've had a lot better approach. Their guy did a great job. He changed speeds. He's got a good arm and he did a great job. But I felt like we should've got on him earlier. We needed to just stick with the plan, have confidence in the system. We just got out front. We were chasing bad pitches. We weren't letting balls get in on us so we could make good decisions. We just made some poor decisions at the plate.
"I think we had seven or eight flyball outs — flyballs not line drives — and, in high school ball, if you hit it up in the air, you're going to be out most of the time," said the coach.
In the first game, Cabot put a pair of runners on with one out in the opening inning but Brandon Surdam lined to Tyler Nelson at short and he doubled up the runner at second with a flip to second sacker Ozzie Hurt.
In the bottom of the inning, Logan, who threw a number of breaking pitches including a big, soft curve, retired Nelson. But then Tyler Brown singled up the middle and Taylor laced a double to the gap in left-center. A wild pitch allowed Brown to score and Taylor to take third ahead of an RBI single by Cross. Hayden Daniel came on to run for the pitcher and stole second. He took third on Landon Pickett's groundout then scored when Chris Joiner sliced a double down the right-field line.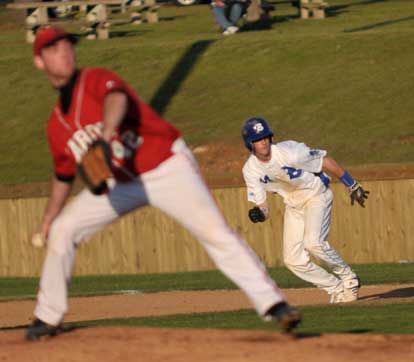 Hurt made a nice play on a looping liner by Justin Goff to start the second but then Vaughan singled and Tyler Cole doubled off the third-base bag. But when Vaughn rounded third too far, Joiner threw into third from left in time to nail him trying to scramble back to the bag. Two pitches later, Cross picked off Cole at second to keep it 3-0.
Pultro singled and stole second for the Hornets but then Logan retired the side on three flyouts.
Cabot's rally began with a single to right by Daniel Fox. He stole second as Cross struck out Jared Wilson. Bryson Morris tapped back to the mound so Cross was within an out of keeping the shutout going.
But, on a 3-2 pitch, Nicholson drew a walk. Free passes to Tyler Carter and Surdam followed, forcing in a run. Goff then beat out an infield hit to get a second run in before Cross fanned Vaughan.
Logan pitched around a pair of walks in the third and, in turn, Taylor relieved and retired the first five batters he faced before surrendering a single to Carter with two down in the top of the fifth. Surdam was hit by a 3-2 pitch to put runners at first and second but Taylor fanned Goff to preserve the lead and start a stretch in which he retired the last seven in a row to close out the game.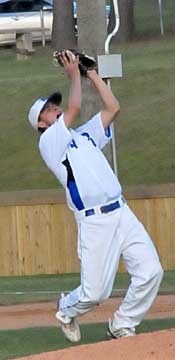 The Hornets threatened to increase their lead in the bottom of the fifth but Surdam made a pair of spectacular plays in center to prevent it. First, he robbed Brown of a hit in the right-center gap. After Taylor walked, Cross powered a deep fly to center. Surdam raced back and made a sprawling catch going away from the plate just short of the wall.
Confusion settled in when there was no clear call about whether or not Surdam made a clean catch in deep center.
Daniel, in to run for Taylor, stayed near first initially but as Cross got to first with no one sure if the catch had been made or not, he took off for second to try to avoid a force out. He was tagged out to end the inning.
A vehement protest by Bock cost him his participation in the game and the next.
In the seventh, Wilson made a bid for a bunt hit but Hayden Lessenberry, the Hornets catcher, hustled out to field the ball and fire to first just in time for the out. Taylor then struck out Morris and got Nicholson to ground out to Nelson at short.
Cabot grabbed the lead when Surdam mashed the first pitch of the second inning for a home run to left-center. Milam gamely came back and retired the side in order on a pair of weak grounders and a strikeout.
In the third, Milam issued a one-out walk to No. 9 batter Cole Thomas on a tough 3-2 pitch. Moments later, Morris blooped one to center that Pultro couldn't quite get to. But Milam got Nicholson to pop out to Nelson at second. He got a strike away from getting out of the inning when Carter belted a 1-2 pitch to the fence in center for a two-run double. Again, Milam got two strikes in on Surdam who subsequently slapped a 2-2 delivery up the middle for an RBI single and a 4-0 lead.
Meanwhile, Nicholson had worked around a two-out error in the first, retiring eight of the first nine batters he faced. With two down in the bottom of the third, Nelson laced a single up the middle. Lucas Castleberry flew to shallow right and got a base hit when Daniel Fox got a late jump on the ball which prevented him from being able to come in for a clean catch.
Taylor and Nicholson battled with the Bryant junior fouling off a pair of two-strike pitches before bouncing out to second to end the threat.
Nicholson proceeded to retire eight in a row.
Milam settled in and worked around an infield hit in the fourth then retired the side in order in the fifth.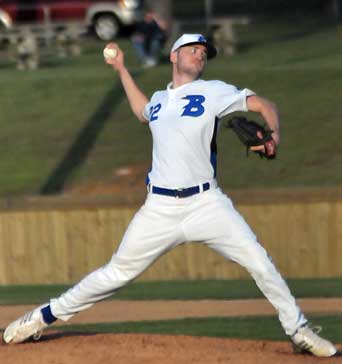 The top of the sixth began with a double by Carter. Surdam walked and Goff beat out a bunt single to load the bases with no one out. But Milam picked off courtesy runner Josh Graham at third then got Vaughan to line out to Taylor at short who caught Surdam wandering too far off second for an inning-ending doubleplay.
The escape fired up the Hornets who rallied in the bottom of the inning. With one out, Castleberry drove a 2-2 pitch to the gap in right-center for a triple. Taylor singled to right to bring him home then Cross and Pickett cracked base hits to load the bags with one out. Joiner got the second run home with a sacrifice fly but then Nicholson got out of the inning by striking out freshman catcher Zach Graddy.
The young receiver had taken over behind the plate for Lessenberry in the top of the inning. The Bryant coaches started to pinch-hit for him with Tyler Brown but they were given the indication that if a sub is replaced then the sub and the starter are burned, unable to return to the game. With high school rules, any starter can re-enter once and the rulebook is ambiguous about whether a second substitute prevents the starter from returning.
Bock indicated that, in the team's recent trip to Florida, it was ruled that regardless of how many subs come in at one spot in the lineup, the starter can always re-enter once. But the umpire in Thursday's game ruled otherwise and the Bryant coach acknowledged that that's what he thought the rule was. So Graddy batted for himself to preserve the option of Lessenberry's re-entry, which he did in the top of the seventh.
Milam closed out his work on the mound with a 1-2-3 seventh, using just eight pitches.
"He had that one bad inning but then he came through there in the sixth with the bases loaded and nobody out," said Bock of his senior right-hander. "He picked off a guy and then got a doubleplay. I thought Caleb did a great job. I thought he deserved a little more run support. I thought he showed great composure after the kid hit the home run then came back and got the next three outs."
Bryant made a bid to get Milam off the hook in the bottom of the seventh. With one out, Evan Jobe was hit by a pitch and, after he stole second, Nelson drew a walk.
But that's when Nicholson came through, getting Castleberry to fly to center then striking out Taylor to finish it.
BRYANT 3, CABOT 2
Game one
Panthers ab r h bi Hornets ab r h bi
Morris, 1b 4 0 0 0 Nelson, ss 3 0 0 0
Nicholson, ss 2 1 0 0 Brown, 3b 3 1 1 0
Carter, c 1 0 1 0 Taylor, 1b-p 1 1 1 0
Thomas, cr 0 0 0 0 Daniel, cr 0 0 0 0
Surdam, cf 1 0 0 1 Cross, p-1b 2 0 1 1
Goff, 3b 3 0 1 1 Daniel, cr 0 1 0 0
Vaughan, dh 3 0 1 0 Pickett, dh 2 0 0 0
Cole, 2b 3 0 1 0 Joiner, lf 3 0 1 1
Fox, rf 3 1 1 0 Lessenberry, c 2 0 0 0
J.Wilson, lf 3 0 0 0 M.Wilson, cr 0 0 0 0
Logan, p 0 0 0 0 Pultro, cf 2 0 1 0
Jobe, rf 2 0 0 0
Hurt, 2b 0 0 0 0
Totals 23 2 5 2 Totals 20 3 5 2
Cabot 002 000 0 — 2
BRYANT 300 000 x — 3
E—none. DP—Bryant 1, Cabot 1. LOB—Bryant 4, Cabot 6. 2B—Taylor, Joiner, Cole. SB—Pultro, Caniel, Fox, Thomas. S—Cross.
Pitching ip r er h bb so
Cabot
Logan (L) 6 3 3 5 4 2
BRYANT
Cross 3 2 2 4 4 2
Taylor (W) 4 0 0 1 0 6
HBP—Nicholson (by Cross), Surdam (by Taylor). WP— Logan.
CABOT 4, BRYANT 2
Game two
Panthers ab r h bi Hornets ab r h bi
Morris, 1b 3 1 1 0 Nelson, 2b 3 0 1 0
Nicholson, p 3 0 0 0 Daniel, pr 0 0 0 0
Carter, c 3 0 2 2 Castleberry, 3b 4 1 2 0
Graham, cr 0 1 0 0 Taylor, ss 4 1 1 1
Surdam, cf 2 1 2 2 Cross, dh 3 0 1 0
Goff, 3b 3 0 1 0 T.Green, cr 0 0 0 0
Vaughan, dh 3 0 0 0 Pickett, 1b 3 0 1 0
Cole, 2b 3 0 1 0 Joiner, lf 2 0 0 1
Wilson, lf 3 0 0 0 Lessenberry, c 2 0 0 0
Thomas, ss 2 1 0 0 Graddy, c 1 0 0 0
Fox, rf 0 0 0 0 Pultro, cf 3 0 0 0
Jobe, rf 2 0 0 0
Milam, p 0 0 0 0
Totals 25 4 7 4 Totals 27 2 6 2
Cabot 013 000 0 — 4
BRYANT 000 002 0 — 2
E—Thomas. DP—Bryant 1. LOB—Bryant 7, Cabot 2. 2B—Carter 2. 3B—Castleberry. HR—Surdam. SB—Jobe. SF—Joiner.
Pitching ip r er h bb so
Cabot
Nicholson (W) 7 2 2 6 1 8
BRYANT
Milam (L) 7 4 4 7 2 4
HBP—Jobe (by Nicholson).