Photos courtesy of Carla Thomas
RUSSELLVILLE — Sophomore Alexis Royal set a new girls school record and a new meet record in the[more] triple jump, covering 37 feet 3 inches at the Cyclone Relays at Russellville High School Friday. Royal led the Bryant Lady Hornets with 30 of the team's 61 points.
The Lady Hornets finished fifth as a team behind Lake Hamilton (80 points), North Little Rock (78), Fort Smith Northside (72) and Cabot (72). In all there were 23 teams in the field.
Royal's record-setting feat is also the leading triple jump in the state so far this season.
"Alexis Royal is just an amazing talent," declared Lady Hornets coach Danny Westbrook. "She has scored 30 points the last two meets and then, add to that, her awesome performance in the triple jump. She really works hard and is so competitive. Coach Beth Solomon, our jumps coach, is doing a great job with her."
Along with winning the triple jump, Royal was second in the long jump with a leap of 16-8 and second in the 100 meter hurdles with a time of 16.2. She also contributed a leg to the Lady Hornets' 400 and 1600 meter relay teams.
In the 400 meter relay, Sarah Evans, Gabrielle Allen, Bailee Seelinger and Royal finished third in 53.2. in the 1600, Royal, Seelinger, Kiana Thomas and Candice Ball finished fifth in a time of 4:31.
The Lady Hornets also picked up premium performances from sophomore distance runners Hannah Raney and Stacy Emmerling. Raney finished second in the 1600 meter run with a time of 5:50 then fourth in the 3200 with a time of 12:26, accounting for 14 points.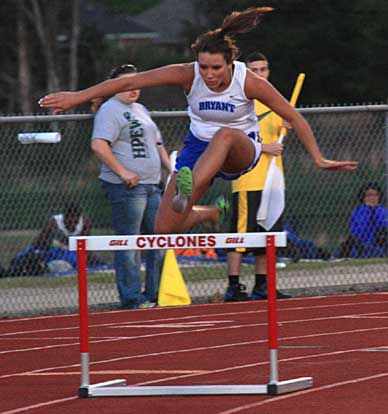 Emmerling's fourth in the 1600 (5:54) and seventh in the 800 (2:34) earned eight points. Both were members of the 3200 meter relay team which placed fourth in a time of 10:58. Joining them was Lauren Stiles and Stacie Waite.
Lauren Magneson contributed an eighth-place finish in the high jump, clearing 4-10.
"We were a little short-handed without Brianna White, who scored 27 points at the Hornet Relays two weeks ago," Westbrook mentioned. "She tweaked a hamstring this week in practice and we decided to play it safe and hold her out at this meet. Hopefully, we will have her back next week at Cabot. I feel like with her in the line-up, we would have had a good shot at the team championship."
The Lady Hornets run at Cabot on Thursday, March 10.