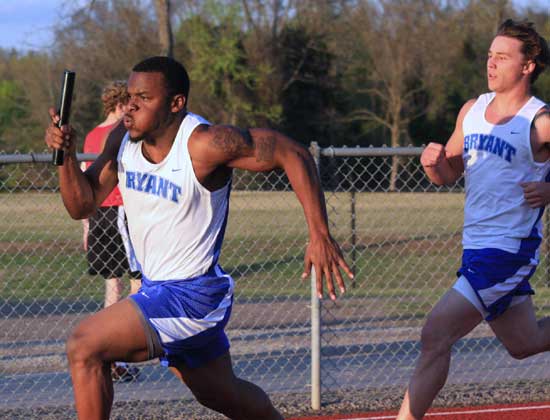 Photos courtesy of Carla Thomas
RUSSELLVILLE — Troy Smith accounted for a team-high 14.5 points by scoring in four different events as the Bryant Hornets[more] finished seventh in the 20-team field at the Cyclone Relays on Friday.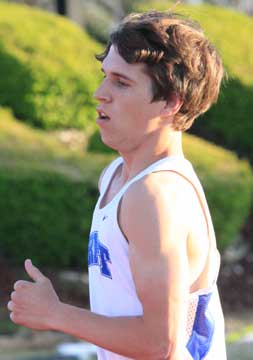 The Hornets finished with 47.5 points. Fort Smith Southside won with 117.25 points with Conway second with 104.5. Russellville was third (66.75) followed by North Little Rock (63), Little Rock Catholic (51), Heber Springs (49.5) and the Hornets. Cabot was eighth at 44.
Smith finished third in the high jump, clearing 6', was fourth in the 300 meter hurdles finishing in a time of 41.99, and sixth in the 110 hurdles with a time of 16.28.
"I thought Troy Smith had a great meet," stated Hornets coach Steve Oury. "He has really come on this year in the hurdle races. Coach Keith Dale does a great job working with all of our hurdlers, and Troy has worked extremely hard."
Smith also contributed a leg to the Hornets' 1600 meter relay team which finished sixth in a time of 3:36.31. Dillon Winfrey, Michael Smith and James Glasper completed the Bryant quartet in the race.
The Hornets picked up second-place points in the 400 meter relay with Winfrey, Tanner Tolbert, Stephen Clark and Kris Bazzelle combining on a 43.51 clocking.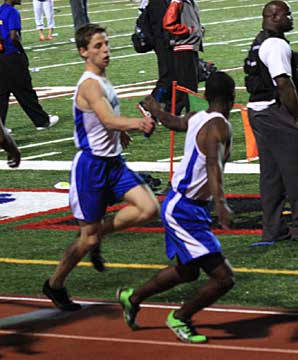 Individually, Winfrey turned in a third-place performance in the 200, finishing in 22.91. Fourth place finishes were turned in by Glasper in the 400 (52.47) and Bazzelle in the high jumper (tied at 5-10).
Tolbert contributed fifth-place points in the triple jump, covering 41-11. He also took eighth in the 100 meter dash (11.53).
Luke Lindsley and Michael Smith each had seventh-place finishes. Lindsley's came in the 3200 with a time of 10:09.97. Smith's was in the 800 which he finished in 2:04.67.
"We has some disappointments, but that is to be expected coming back from spring break," Oury commented. "My biggest concern is getting Caleb Thomas healthy. He hurt his hamstring in the triple jump and that knocked him out of the 100 meter dash where he would have a chance to score at any meet. We also had some bad handoffs in the 400 meter relay that cost us a victory, but that can be corrected."
The Hornets will be in action again on Thursday, April 7, at the Cabot Panther Relays.