Editor's note: This is a regular feature profiling senior athletes at Bryant High School.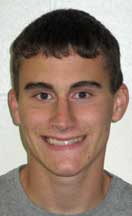 NAME: Ryan Watson
PARENTS: Bruce and Janet Watson
SIBLINGS: Blake Watson, 22.
FAVORITE SUBJECT IN SCHOOL: Math, just because I'm good at it.

WHAT DO YOU LIKE TO DO IN YOUR SPARE TIME? Go to the lake.
FAVORITE FOOD: Anything Italian
FAVORITE MUSIC ARTIST OR GROUP: Yellowcard
FAVORITE MOVIE: Count of Monte Cristo[more]
FAVORITE TV SHOW: Burn Notice
WHAT WAS YOUR FAVORITE TOY AS A KID? A toy sword, I think.
WHAT ARE YOUR PLANS AFTER HIGH SCHOOL? Go to Fayetteville and major in mechanical engineering.
OTHER THAN YOUR PARENTS, WHO HAS HAD THE BIGGEST INFLUENCE ON YOUR LIFE? My brother, he's just kind of like a role model. I've always looked up to him.
FAVORITE THING ABOUT SOCCER: Probably, scoring.
POSITION: Forward.
WHAT DO YOU FEEL LIKE IS YOUR PRIMARY RESPONSIBILITY ON THE FIELD? Scoring.
WHAT DO YOU THINK OF THE SEASON SO FAR? We could've done better but it's looking okay so far.
WHEN THE TEAM'S PLAYING WELL, WHAT'S IT DOING? We're really talking, kind of playing calm. We're not getting concerned about anything. We're just focused.
WHAT'S BEEN THE HIGHLIGHT OF THE SEASON SO FAR? Beating Russellville.
WHAT'S IT GOING TO TAKE FOR THE TEAM TO BE SUCCESSFUL THE REST OF THE SEASON? We're going to have to work together and not get after each other, not be negative toward each other.

INDIVIDUALLY, WHAT ABOUT YOUR GAME ARE YOU MOST CONFIDENT ABOUT? Distribute the ball.
WHAT DO YOU WORK HARDEST TO IMPROVE? Probably, my shot.
AFTER YOU'RE THROUGH PLAYING SOCCER AT BHS, WHAT DO YOU THINK YOU'LL REMEMBER MOST FONDLY ABOUT IT? All the soccer terms we come up with.