Editor's note: This is a regular feature profiling senior athletes at Bryant High School.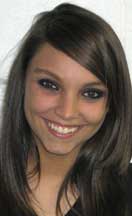 NAME: Sarah Holt
PARENTS: Lajena and Allan Holt
SIBLINGS: I have two half-brothers, Brandon and David. Brandon is 22 and David is 27.
FAVORITE SUBJECT IN SCHOOL: English
FAVORITE SPARE TIME ACTIVITY: Hang out with friends
FAVORITE FOOD: Chinese food
FAVORITE MUSIC ARTIST OR GROUP: Pretty much all of it. I listen to everything.[more]
FAVORITE MOVIE: Titanic
FAVORITE TV SHOW: Jersey Shore
WHAT WAS YOUR FAVORITE TOY AS A KID? My Barney
WHAT ARE YOUR PLANS AFTER HIGH SCHOOL? To go to college and maybe walk on somewhere for track. I'd like to go to UCA or Fayetteville. I want to study nursing.
OTHER THAN YOUR PARENTS, WHO'S HAD THE BIGGEST INFLUENCE ON YOUR LIFE? HOW? My grandma because she's taught me how to live my life, live by Christ and live right.
WHAT'S YOUR FAVORITE THING ABOUT TRACK? Just all the girls that are on the team. We have so much fun together. It's more like a bonding experience being on the track team.
EVENTS? I pole vault.
WHAT APPROACH DO YOU TAKE TO YOUR EVENT? On the way to meets, I listen to music and I get focused and when we get there I mark my steps and just make sure I'm in the zone.
WHAT DO YOU THINK OF THE SEASON SO FAR? It's going good. I was out a couple of weeks ago but I'm back in and I'm getting better.
WHAT'S BEEN THE HIGHLIGHT TO THE SEASON SO FAR? None really, not yet.
WHAT'S IT GOING TO TAKE FOR THE TEAM TO BE SUCCESSFUL THE REST OF THE SEASON? Just for us to stick together and practice hard and get focused before every meet.
TALK ABOUT YOUR EVENT NOW; WHAT DO THINK IS YOUR BIGGEST ASSET? WHAT ARE YOU MOST CONFIDENT IN YOUR ABILITY TO DO? Probably staying focused. I don't talk to anybody really before the meet and while I'm competing I'm usually to myself and with my coaches and my dad.
WHEN YOU'RE THROUGH RUNNING TRACK AT BRYANT HIGH SCHOOL, WHAT DO YOU THINK YOU'LL LOOK BACK AND REMEMBER MOST FONDLY ABOUT THE EXPERIENCE? Just the relationships with the girls. It's the best relationship with all the girls on the team.