Editor's note: This is a regular feature profiling senior athletes at Bryant High School.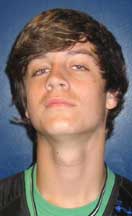 NAME: Sean Sobba
DATE OF BIRTH: Nov. 4, 1991
PARENTS: Lee Sobba and Rene Dudderar
SIBLINGS: A half-brother and half-sister, J.T. and Kirsten. A step-brother Garrett Polsten. Garrett's 15, J.T.'s 13 and Kirsten's 7.
FAVORITE SUBJECT IN SCHOOL: History
WHAT DO YOU LIKE TO DO IN YOUR SPARE TIME? Play ping-pong.
FAVORITE FOOD: Chicken nuggets or chicken strips
FAVORITE MUSIC ARTIST OR GROUP: My boy, Yo Gotti.[more]
FAVORITE MOVIE: The Departed.
FAVORITE TV SHOW: That 70's Show
WHAT WAS YOUR FAVORITE TOY AS A KID? Hot Wheels cars.
WHAT ARE YOUR PLANS AFTER HIGH SCHOOL? Attend college at UCA and major in business
OTHER THAN YOUR PARENTS, WHO HAS HAD THE BIGGEST INFLUENCE ON YOUR LIFE? Pop. He builds character.
FAVORITE THING ABOUT SOCCER: I'm good at it and I can score more than 85 percent of people.
POSITION: Forward.
WHAT DO YOU FEEL LIKE IS YOUR PRIMARY RESPONSIBILITY ON THE FIELD? To score.
WHAT DO YOU THINK OF THE SEASON SO FAR? Very good season so far. We're hopefully going to do good in State because we're pretty good this year. Everyone is trying hard and knows we can win instead of just losing every game and expecting to lose like usual.
WHAT'S BEEN THE HIGHLIGHT TO THE SEASON SO FAR? Guaranteed third seed.
WHAT'S IT GOING TO TAKE FOR THE TEAM TO BE SUCCESSFUL THE REST OF THE SEASON? Be more physical and out-hustle everyone.
INDIVIDUALLY, WHAT ABOUT YOUR GAME ARE YOU MOST CONFIDENT ABOUT? Score.
WHAT DO YOU WORK HARDEST TO IMPROVE? Scoring.
AFTER YOU'RE THROUGH PLAYING SOCCER AT BHS, WHAT DO YOU THINK YOU'LL REMEMBER MOST FONDLY ABOUT IT? My main friends, Reed, Marty, Jonathan and Alex.