Editor's note: This is a regular feature profiling senior athletes at Bryant High School.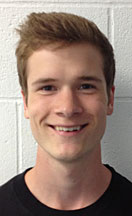 NAME: Spencer Sullivan
PARENTS: Kelly Sullivan and Tony Sullivan
SIBLINGS: Ryan Webb and Zach Webb. Ryan's 40, Zach is 38, I think.
FAVORITE SUBJECT IN SCHOOL: Engineering
FAVORITE SPARE TIME ACTIVITY: Hang out with friends, watch TV.
FAVORITE FOOD: Pizza
FAVORITE MUSIC ARTIST OR GROUP: Tupac
FAVORITE MOVIE: The Matrix[more]
FAVORITE TV SHOW: Tosh.0 or That 70's Show.
WHAT WAS YOUR FAVORITE TOY AS A KID? Legos
WHAT ARE YOUR PLANS AFTER HIGH SCHOOL? I plan on going to UALR and being a systems engineer.

OTHER THAN YOUR PARENTS, WHO'S HAD THE BIGGEST INFLUENCE ON YOUR LIFE? HOW? I'd say my older brothers, looking at them as role models, trying to get my life together. They're real funny.
WHAT'S YOUR FAVORITE THING ABOUT TRACK? Just the competition between one person and everyone else when you're out on the track.
EVENTS? The 110 hurdles, the 300 hurdles, the 4×100 and, occasionally, the 4×400.
WHAT APPROACH DO YOU TAKE TO YOUR EVENTS? I like to listen to music. I kind of like to get to myself, focus on trying to perform my best.
WHAT DO YOU THINK OF THE SEASON SO FAR? It's fun. I love the guys I'm on the team with, lots of fun, lots of good runners. It's been a very good season so far.
WHAT'S BEEN THE HIGHLIGHT OF THE SEASON SO FAR? My personal highlight would be breaking a record and all the excitement.
WHAT'S IT GOING TO TAKE FOR THE TEAM TO BE SUCCESSFUL AT THE REST OF THE SEASON? Teamwork, motivation definitely; I think we can do real well this season if we just stick together.
TALK ABOUT YOUR EVENT NOW; WHAT DO YOU THINK IS YOUR BIGGEST ASSET? WHAT ARE YOU MOST CONFIDENT IN YOUR ABILITY TO DO? Hurdles, definitely. It's taken lots of practice. I've been hurdling since seventh grade so I've had a little time to work on it.
WHAT DO YOU WORK HARDEST IN PRACTICE TO IMPROVE ON? Probably form and technique.
WHEN YOU'RE THROUGH RUNNING TRACK AT BRYANT HIGH SCHOOL, WHAT DO YOU THINK YOU'LL LOOK BACK AND REMEMBER MOST FONDLY ABOUT THE EXPERIENCE? All the bonding with friends and family that you make with everyone you run with.