Editor's note: This is a regular feature profiling senior athletes at Bryant High School.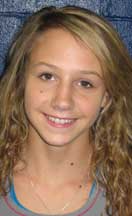 NAME: Stacy Emmerling
PARENTS: Mark and Tanya Emmerling
SIBLINGS: Two brothers, Justin and Tracy. Tracy is 20 and Justin is 16.
FAVORITE SUBJECT IN SCHOOL: Math
FAVORITE SPARE TIME ACTIVITY: Just hang out with my friends.
FAVORITE FOOD: Rahman noodles
FAVORITE MUSIC ARTIST OR GROUP: I don't really have one.
FAVORITE MOVIE: Paranormal Activity[more]
FAVORITE TV SHOW: Pretty Little Liars
WHAT WAS YOUR FAVORITE TOY AS A KID? My Teletubby.
WHAT ARE YOUR PLANS AFTER HIGH SCHOOL? I plan on going to college at Henderson. I'm going to be running there and I want to be a teacher.
OTHER THAN YOUR PARENTS, WHO'S HAD THE BIGGEST INFLUENCE ON YOUR LIFE? HOW? My coach; he's helped push me through all these years I've been with him.
WHAT'S YOUR FAVORITE THING ABOUT TRACK? The team.
EVENTS? For conference, coach is going to have me run the two mile, the one mile, the 4×800 and the 800.
WHAT APPROACH DO YOU TAKE TO YOUR EVENTS? Going into it is definitely mental because you have mental fortitude to go into this and run all that. You definitely have to be in shape physically for it too because the 800 is practically a sprint and the two mile is really long. You have to keep your spirits up and be happy. It helps.
WHAT DO YOU THINK OF THE SEASON SO FAR? It's been great. We've won every track meet so we're doing great so far. I hope we win conference like we did last year.
WHAT'S BEEN THE HIGHLIGHT TO THE SEASON SO FAR? The highlight every year for me is our home meet because that's when we're ready to go, that's our home turf. So everyone's out to get us because it's our home turf and we just got to push through that.
WHAT'S IT GOING TO TAKE FOR THE TEAM TO BE SUCCESSFUL AT CONFERENCE AND STATE? It's going to take everybody. In conference, you can put four in each event so we need everybody. Everyone needs to be ready for it and in tip-top shape for it.
TALK ABOUT YOUR EVENT NOW; WHAT DO THINK IS YOUR BIGGEST ASSET? WHAT ARE YOU MOST CONFIDENT IN YOUR ABILITY TO DO? Competition; putting me against another runner, that's what helps push me and drive me to do better in distance and in sprints.
WHAT DO YOU WORK HARDEST IN PRACTICE TO IMPROVE ON? My sprints. It helps with the 800 and the ending of like the two mile, coming down the last stretch. But you have to have good endurance to be able to do that.
WHEN YOU'RE THROUGH RUNNING TRACK AT BRYANT HIGH SCHOOL, WHAT DO YOU THINK YOU'LL LOOK BACK AND REMEMBER MOST FONDLY ABOUT THE EXPERIENCE? Just the team and my coach and all the fun memories we've had.