Editor's note: This is a regular feature profiling senior athletes at Bryant High School.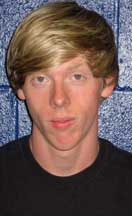 NAME: Troy Smith
PARENTS: Valerie Smith and Lee Smith
SIBLINGS: I have three sisters and three brothers. I have a brother who would've been 26 this year and I have a brother who's 30. I have a brother who is 4. Joshua's the youngest. I have another brother named Josh who is the oldest. Jeremy passed away. Then I have a sister named Taegan who is 9 and a sister named Jessica and another named Alicia. Jessica is 20 and Alicia is almost 22.
FAVORITE SUBJECT IN SCHOOL: Science
FAVORITE SPARE TIME ACTIVITY: Run. I run a lot and I like music.
FAVORITE FOOD: I love Italian food.[more]
FAVORITE MUSIC ARTIST OR GROUP: I don't have a favorite. I just like music I can understand.
FAVORITE MOVIE: Apollo 13 is definitely my favorite.
FAVORITE TV SHOW: So You Think You Can Dance
WHAT WAS YOUR FAVORITE TOY AS A KID? Probably my roller blades
WHAT ARE YOUR PLANS AFTER HIGH SCHOOL? I'm going to UALR, walking on and hopefully going to be a multi- or do the decathlon. I'm going into the health field, probably physical therapy.
OTHER THAN YOUR PARENTS, WHO'S HAD THE BIGGEST INFLUENCE ON YOUR LIFE? HOW? A previous senior, Jordan Chadwick. She's just really dedicated. She works really hard and that influenced me to want to be better.
WHAT'S YOUR FAVORITE THING ABOUT TRACK? Succeeding after all the hard work you put in.
EVENTS? I do high jump, 300 meter hurdles, 110 hurdles, pole vault and I also do the 4×400 relay.
WHAT APPROACH DO YOU TAKE TO YOUR EVENTS? I usually isolate myself to get ready for those. I try to calm myself down or pump myself up, depending on the event and just go in with kind of a clear mind and take it from there.
WHAT DO YOU THINK OF THE SEASON SO FAR? The team itself, we've done well. We've had a lot of injuries but our team has done pretty good. I myself could've done better in certain situations and other people could've also done better but doing the best you can is all you can ask for.
WHAT'S BEEN THE HIGHLIGHT TO THE SEASON SO FAR? The Cabot track meet, definitely. I placed in all five events and I jumped 6-4 in the high jump which is a new personal best for me.
WHAT'S IT GOING TO TAKE FOR THE TEAM TO BE SUCCESSFUL THE REST OF THE SEASON? Just everyone's hard work and dedication. That's pretty much all you can ask for.
TALK ABOUT YOUR EVENT NOW; WHAT DO THINK IS YOUR BIGGEST ASSET? WHAT ARE YOU MOST CONFIDENT IN YOUR ABILITY TO DO? In the high jump, I'm pretty confident I'm going to State, for sure. Last year, I won conference so this year I'm going to try again to be top three in conference. I'm pretty sure I can do that. In the 300 meter hurdles, I definitely want to go to State for that and I'm confident I can. The school record on the other hand is 40.1 and I still have not gotten it but I'm still working towards it.
WHAT DO YOU WORK HARDEST IN PRACTICE TO IMPROVE ON? My form for hurdles.
WHEN YOU'RE THROUGH RUNNING TRACK AT BRYANT HIGH SCHOOL, WHAT DO YOU THINK YOU'LL LOOK BACK AND REMEMBER MOST FONDLY ABOUT THE EXPERIENCE? The people and the support and the coaches.