Editor's note: This is a regular feature profiling senior athletes at Bryant High School.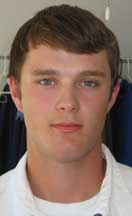 NAME: Tryce Schalchlin
PARENTS: David and Annette Schalchlin
SIBLINGS: A sister, Isabella. She's 16.
FAVORITE SUBJECT IN SCHOOL: Science
WHAT DO YOU LIKE TO DO IN YOUR SPARE TIME? Fishing
FAVORITE FOOD: Chicken Alfredo
FAVORITE MUSIC ARTIST OR GROUP: AC/DC
FAVORITE MOVIE: Tropic Thunder[more]
FAVORITE TV SHOW: River Monsters
WHAT WAS YOUR FAVORITE TOY AS A KID? Probably a hockey stick.
WHAT ARE YOUR PLANS AFTER HIGH SCHOOL? Go to college and play baseball. I'd like to go to OBU; and study Biology.
OTHER THAN YOUR PARENTS, WHO HAS HAD THE BIGGEST INFLUENCE ON YOUR LIFE? My grandfather; when my parents weren't around I was around him a lot and he got me to always try hard in everything. He's been a really important person in my life.
FAVORITE THING ABOUT BASEBALL: I like that you never know what's going to happen. It's more like a game of will and whoever doesn't panic and tries their hardest is going to win most of the time.
POSITION: Pitcher
WHAT'S YOUR APPROACH ON THE MOUND? I'm trying to make sure I keep the ball down low and don't make a mistake where they can hit it. If they do hit it, I have complete trust in the seven people behind me, that they're going to make the plays.
WHAT PITCHES DO YOU THROW? I throw fastball, slider, curve and change-up.
IS THERE A PITCH YOU'RE MOST CONFIDENT IN? Probably my slider. I'm pretty confident in that. They're not going to hit it.
WHAT DO YOU THINK OF THE SEASON SO FAR? I think we're doing good. I think we've had a few rough patches, a couple of games but I think, right now, we could easily win a State championship.
WHAT'S BEEN THE HIGHLIGHT TO THE SEASON SO FAR? The Conway game, when they started coming back and we held them off.
WHAT'S IT GOING TO TAKE FOR THE TEAM TO BE SUCCESSFUL THE REST OF THE SEASON? Everybody just keep doing what they're doing. I think we're pitching's good right now, our hitting's good and our defense has been spectacular the last few games.
TALK ABOUT YOUR GAME. WHAT ARE YOU MOST CONFIDENT IN YOUR ABILITY TO DO? Go out there and pitch whenever I'm needed.
WHAT DO YOU WORK HARDEST IN PRACTICE TO IMPROVE ON? Picks
AFTER YOU'RE THROUGH PLAYING BASEBALL AT BHS, WHAT DO YOU THINK YOU'LL REMEMBER MOST FONDLY ABOUT IT? I'm probably going to remember Coach (Kirk) Bock mainly. He's helped me in ways I couldn't describe and I think he's just a great man.