Editor's note: This is a regular feature profiling senior athletes at Bryant High School.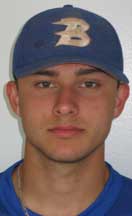 NAME: Tyler Nelson
PARENTS: Vince and Tonya Nelson
SIBLINGS: I have a sister, Lindsay Nelson. She's 20.
FAVORITE SUBJECT IN SCHOOL: Physics
WHAT DO YOU LIKE TO DO IN YOUR SPARE TIME? Golf
FAVORITE FOOD: Chicken spaghetti
FAVORITE MUSIC ARTIST OR GROUP: Li'l Wayne
FAVORITE MOVIE: Step-brothers[more]
FAVORITE TV SHOW: Sportscenter
WHAT WAS YOUR FAVORITE TOY AS A KID? Hot Wheels cars
WHAT ARE YOUR PLANS AFTER HIGH SCHOOL? Go to college and play baseball. I'm not sure where yet. I'll probably study Kineseology.
OTHER THAN YOUR PARENTS, WHO HAS HAD THE BIGGEST INFLUENCE ON YOUR LIFE? Probably my grandparents, just raising me how I need to be raised.
FAVORITE THING ABOUT BASEBALL: Winning.
POSITIONS: Shortstop and pitcher
WHAT'S YOUR APPROACH AT THE PLATE? Get a base hit.
WHAT'S YOUR APPROACH ON THE MOUND? I try to strike everybody out but if I don't, let my defense work.
WHAT PITCHES DO YOU THROW? Fastball, curveball, change
WHAT'S YOUR FAVORITE? Probably my curveball
WHAT'S YOUR APPROACH IN THE FIELD? Make the plays that come to me.
WHAT DO YOU THINK OF THE SEASON SO FAR? I think we've been doing great. We've got a great record and I think we're improving, coming in every day in the morning and getting better.
WHAT'S BEEN THE HIGHLIGHT TO THE SEASON SO FAR? Probably beating Conway.
WHAT'S IT GOING TO TAKE FOR THE TEAM TO BE SUCCESSFUL THE REST OF THE SEASON? Hitting. We've got to keep hitting the ball.
TALK ABOUT YOUR GAME. WHAT ARE YOU MOST CONFIDENT IN YOUR ABILITY TO DO? Probably hitting.
WHAT DO YOU WORK HARDEST IN PRACTICE TO IMPROVE ON? Hitting
AFTER YOU'RE THROUGH PLAYING BASEBALL AT BHS, WHAT DO YOU THINK YOU'LL REMEMBER MOST FONDLY ABOUT IT? Practice at 5 o'clock in the morning and then winning State championships.