Editor's note: This is a regular feature profiling senior athletes at Bryant High School.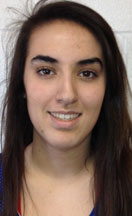 NAME: Whitney Meyer
PARENTS: Rick and Lisa Meyer
SIBLINGS: I have an older sister, Jackie Meyer.
FAVORITE SUBJECT IN SCHOOL: Math and Science and History
FAVORITE SPARE TIME ACTIVITY: I like to go skiing and go on cruises.
FAVORITE FOOD: Anything Italian or Cajun
FAVORITE MUSIC ARTIST OR GROUP: Hunter Hayes and One Direction[more]
FAVORITE MOVIE: The Notebook
FAVORITE TV SHOW: Revenge
WHAT WAS YOUR FAVORITE TOY AS A KID? I had a little stuffed doll, tiger-thing named Simba.
WHAT ARE YOUR PLANS AFTER HIGH SCHOOL? I plan to attend one of four universities, either University of Arkansas, UCA, St. Louis University or Belmont University to get a doctorate in Physical Therapy and a minor in Athletic Training.
OTHER THAN YOUR PARENTS, WHO'S HAD THE BIGGEST INFLUENCE ON YOUR LIFE? HOW? Rebecca Davis. She was my AAU coach since the fourth grade.
WHAT'S YOUR FAVORITE THING ABOUT BASKETBALL? The bus trips.
POSITION: Center
WHAT DO YOU FEEL LIKE YOUR RESPONSIBILITIES ARE? To rebound and block out.
WHAT DO YOU THINK OF THE SEASON SO FAR? I think we keep improving after every game and the goal is to get to the State tournament.
WHAT'S BEEN THE HIGHLIGHT TO THE SEASON SO FAR? I had a really good game against North Little Rock early in pre-season and then when we played Lake Hamilton recently with three blocks and six points. That was pretty good.
WHAT'S IT GOING TO TAKE FOR THE TEAM TO BE SUCCESSFUL THE REST OF THE SEASON? Just for us to keep clicking as a team and just pass it to whoever's open. We've been very good about not being selfish with the ball.
TALK ABOUT YOUR GAME NOW; WHAT ARE YOU MOST CONFIDENT IN YOUR ABILITY TO DO? My rebounding; I've gotten a lot better. I've worked on trying to make sure to find someone to block out and then go get it.
WHAT DO YOU WORK HARDEST TO IMPROVE ON IN PRACTICE? Scoring. We've been working on direct basket cuts.
WHEN YOU'RE THROUGH PLAYING BASKETBALL AT BRYANT HIGH SCHOOL, WHAT DO YOU THINK YOU'LL LOOK BACK AND REMEMBER MOST FONDLY ABOUT THE EXPERIENCE? Just that I got to play sports all through high school. Probably what I'll most vividly remember is ninth-grade year when we won conference and we went undefeated. That hadn't been done since the Grappe triples and then, also, our sophomore summer when the elite basketball team, we went and won nationals.