LITTLE ROCK — The Bryant Hornets finished fourth in a 12-team field at a swim meet at UALR[more] on Saturday to close out the regular season. Bryant will host the District meet this Friday at Bishop Park's Aquatic Center.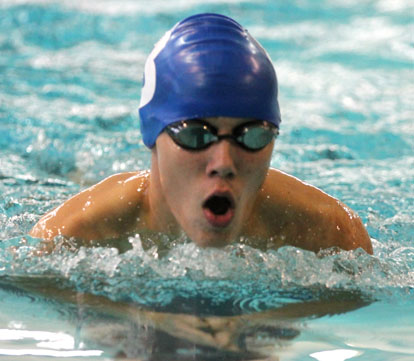 The Hornets' effort was highlighted by the 400 freestyle relay team's qualifying time of 3:47.38, which was good for third in the event. Plus, Minki Kang kept his winning streak going with a first-place finishes in the 500 and 200 freestyle races. He turned in a time of 4:42.78 in the 500 and finished in 1:45.30 in the 200.
In addition, Justin Combs captured a second-place finish in the one-meter dive competition, garnering a score of 165.10. Scott Mead was fourth (1:28.85) and Lucas Reitenger fifth (128.20) for the Hornets, who picked up 46 points in the diving competition.
In the other relays, Bryant was fifth in the 200 medley (1:55.09) and seventh in the 200 free (1:54.15).
Casey Ball had the next highest individual finish with a sixth in the 100 backstroke. He timed out at 1:08.55.
Ninth-place points were picked up by Nick Hoffpauir in the 500 free (6:31.42) and Ray Weldon in the 100 free (58.50).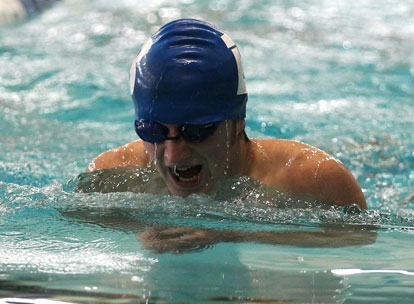 Andrew Ball was 10th in the 100 breast stroke, turning in a 1:16.31 with Hoffpauir 11th in the 100 butterfly (1:16.13) and Weldon 11th in the 50 free (25.96).
Casey Ball also picked up 12th-place points in the 200 individual medley, clocking in at 2:31.91 with teammate Jim Dellorto 14th in 2:42.71.
Scott Mead was 13th in the 100 back, finishing in 1:18.74 while Spencer Qualls picked up 15th-place points in the 100 breast (1:28.10) and Andrew Ball scoring with a 17th-place finish in the 50 free (26.61).
Little Rock Catholic hosted the meet and won the team title with 358 points. Little Rock Central was second with 310 and Conway third with 280.5. Bryant finished with 235 points with North Little Rock fifth with 226 followed by Pulaski Academy (176), Magnolia (151.5), Benton (79), El Dorado (65), Arkansas Baptist (45), Central Arkansas Christian (40) and Little Rock Christian (12).