Editor's note: This is a regular feature profiling senior athletes at Bryant High School.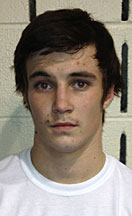 NAME: Zach Simmons

PARENTS: Jeff and Vickie Simmons
FAVORITE SUBJECT IN SCHOOL: Science

FAVORITE SPARE TIME ACTIVITY: Play basketball and wrestle

FAVORITE FOOD: Mexican food

FAVORITE MUSIC ARTIST OR GROUP: Country would be my favorite type of music. I don't have a favorite artist.
FAVORITE MOVIE: Fight Club
FAVORITE TV SHOW: King of the Hill[more]
WHAT WAS YOUR FAVORITE TOY AS A KID? Dumptrucks
WHAT ARE YOUR PLANS AFTER HIGH SCHOOL? Hopefully go to college. Arkansas Baptist is where I want to go. If not, get a job. I work for a construction company.
OTHER THAN YOUR PARENTS, WHO'S HAD THE BIGGEST INFLUENCE ON YOUR LIFE? HOW? My coaches; they've just helped me make the right choices, keeping me here instead of out messing up.
WHAT'S YOUR FAVORITE THING ABOUT WRESTLING? Just beating people. I like to win.
WHAT'S YOUR WEIGHT CLASS? 126
WHAT'S YOUR APPROACH TO A MATCH? I wrestle it in my head, get my mind going. I wrestle the whole match in my head and then go out and try to do what I know how to do, be aggressive.
WHAT'S BEEN THE HIGHLIGHT TO THE SEASON SO FAR? Just how well our team's been doing.
WHAT'S IT GOING TO TAKE FOR THE TEAM TO BE SUCCESSFUL THE REST OF THE SEASON? We've got to push ourselves in practice. What we do in here is how we're rewarded out there.
WHAT ARE YOU MOST CONFIDENT IN YOUR ABILITY TO DO? Win

WHAT DO YOU WORK HARDEST TO IMPROVE ON IN PRACTICE? My cardio
WHEN YOU'RE THROUGH WRESTLING AT BRYANT HIGH SCHOOL, WHAT DO YOU THINK YOU'LL LOOK BACK AND REMEMBER MOST FONDLY ABOUT THE EXPERIENCE? To me, meeting all these new friends, because you meet a lot of good people that like the sport too.