By Rob Patrick
Photos by Rick Nation and Kevin Nagle
BENTON — Every time it looked like the Bryant Hornets were on the verge of taking the[more] lead, the Benton Panthers made a play in the clutch to maintain the advantage, mostly a slim one.

Every time the Panthers threatened to make it more than that, to break the contest open, the Hornets came through in the clutch to stay in striking distance.
In a corker of a game, the Panthers, undefeated in South Conference play, escaped with a 55-51 win over the Hornets, who were seeking their fourth straight league win.
The victory wasn't secure until Benton senior point guard Bryan Torres sank a pair of free throws with :07.4 left on the clock. That gave him 19 points in the game to eclipse the 18 points scored by Bryant's K.J. Hill for game-high honors. Just moments before, Hill had canned a running jumper in the lane to bring the Hornets within 53-51.
It was fitting that those two closed out the game that way as they put on an individual offensive duel during a particularly scintillating stretch in the third quarter when Bryant repeatedly pulled within a point.
The Panthers couldn't keep Hill from driving into the lane and scoring but the Hornets couldn't keep track of Torres who, on consecutive trips up the floor, drained a trio of 3-pointers to counter Hill's slashing moves.
Hill had 9 of his 18 in the quarter and Torres had 12 of his 19.
Still, the Hornets trailed by 9 early in the fourth quarter but the Panthers couldn't shake them. A flying layup by Josh Bowling with 6:23 left to play had Benton up 46-37 but Bryant's C.J. Rainey drove for a basket and the Hornets forced a turnover that eventually produced a basket by Greyson Giles that trimmed the lead to 5.
The two teams battled back and forth without scoring for the next three minutes Torres canned a 10-footer to make it 48-41. Rainey again came through to keep the Hornets in it, canning a 3.
Benton countered with a layup by 6-7 Graham Gardner off a drive-and-dish by Quinn Allen.
Rainey had another 3-point try got down and come out but Giles came up with a steal. Though he missed the front end of the one-and-one, Torres did the same at the other end with 1:20 to go.
Hill fed Giles for a layup and it was 50-46 with 1:02 left. Blake Bowlin hit a free throw for the Panthers but when Hill drained a trey from the corner off a nice feed from Rainey who scrambled after an offensive rebound to retain possession.
Suddenly, Benton's lead was just 51-49. In a flurry, Bryant's Tyler Simmons made a steal to give his team a chance to tie or take the lead only to have Benton's Rickey Gipson swipe it back and drive for a crucial layup with :22 to go.
After a Benton timeout, Hill cut it to 2 again but Torres came through at the line to put the game out of reach.
"They made a lot of big plays," said Hornets coach Mike Abrahamson of the Panthers. "They deserved the win but I feel like we were right there and had our chances to seize this opportunity. We played well. The kids played hard. They gave a great effort but it just wasn't enough to beat a good team."
The Panthers are 19-2 overall and 8-0 in conference play. The Hornets slip to 14-8 and 3-5 going into a home game against the second-place Pine Bluff Zebras on Friday.
"We're just not a finished product," Abrahamson said. "Nobody wants to lose. Nobody wants to lose to Benton. I understand. But we're still not a finished product. We've still got some time to keep getting better and to try to make a run at the end of the year. All we can do is come back tomorrow and try to keep getting better. Clearly, we've made progress. We can't let this discourage us. We're going to let it hurt tonight then we're going to move on and get back to work tomorrow."
On Jan. 4, the Panthers won at Bryant 62-44 to open the conference schedule.
"We were just really playing bad at that time," related Abrahamson. "They were hungry, we got them last year and they just beat us bad.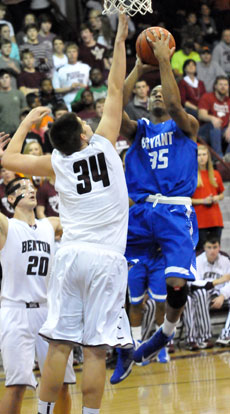 "I think this time our kids were more physical," he continued. "They were more urgent leading up to the game in our preparation. Statistically, we just did a lot better job of blocking out. We still got out-rebounded slightly. We didn't press as much this time because they hurt us last time when we pressed.
"They're becoming more resilient," the coach said of his team. "They're fighting back a lot more through adversity. I'm proud of that."
The Hornets put together a good start to the game, building a 6-2 lead on baskets by Simmons, Zach Cambron and Hill.
The Panthers got going with a basket inside by Gardner and the game became a seesaw affair. Two free throws by Rainey with :15 left in the first quarter gave the Hornets an 11-10 lead.
Luke Rayburn and Simmons each hit 3's in the early stages of the second period and the Hornets pushed out to a 19-12 lead. But Benton countered with a basket off a lob into the post by Graham, two free throws by Allen and the first of Torres' five triples.
That had it tied at 19. Benton was back ahead when Bowling hit a layup with :52 left. But a driving jumper by Rainey with :08 showing knotted it up at the half.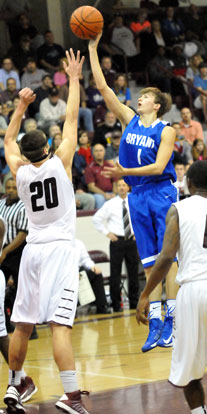 The Panthers made a bid to blow it open at the start of the second half. Graham hit a free throw, Gipson attacked the basket for a deuce then Torres bombed a trey from long range to make it 27-21.
After a timeout, Hill took a feed in the high post and drove for a bucket to get the Hornets going again. With 5:15 left, Simmons flushed a 3 and was fouled. Though he couldn't get the four-point play, he had the Hornets within 27-26. Graham scored then Hill and Torres started trading eye-popping plays.
By hitting 3's to Bryant's 2's, the Panthers managed to build a 40-34 lead after the third of Torres triples. With the Benton crowd in full throat, Hill coolly attacked the Benton defense, drew a foul and sank a free throw to make it a 5-point game going into the final eight minutes.
BENTON 55, BRYANT 51
Score by quarters
BRYANT 10 11 19 15 — 51
Benton 11 10 14 16 — 55
HORNETS (14-8, 3-5) 51
Player fg-fga ft-fta reb fls pts
o-d-t
Hill 8-12 1-3 0-3 3 2 18
McKissock 0-1 0-0 0-0 0 0 0
Simmons 4-8 0-1 0-3 3 2 10
Reed 0-4 1-2 2-5 7 3 1
Cambron 2-4 2-2 1-2 3 4 6
Rainey 3-10 2-2 2-3 5 0 9
Giles 2-2 0-1 0-2 2 3 4
Rayburn 1-3 0-0 0-1 1 0 3
Davis 0-0 0-0 0-0 0 0 0
Team 0-2 2
Totals 20-44 6-11 5-21 26 14 51
PANTHERS (19-2, 8-0) 55
Player fg-fga ft-fta reb fls pts
o-d-t
Torres 6-11 2-3 0-2 2 2 19
Allen 2-5 4-5 3-1 4 3 8
Gipson 3-9 0-0 0-5 5 0 6
Bowling 4-9 0-0 1-6 7 4 8
Gardner 4-5 1-2 0-2 2 0 9
Bowlin 1-4 1-2 0-4 4 1 3
Beaugard 1-2 0-0 0-0 0 3 2
Team 1-2 3
Totals 21-45 8-12 5-22 27 13 55
Three-point field goals: Bryant 5-17 (Simmons 2-5, Rainey 1-5, Hill 1-4, Davis 1-1, McKissock 0-1, Cambron 0-1), Benton 5-16 (Torres 5-8, Gipson 0-3, Bowlin 0-2, Allen 0-1, Bowling 0-1, Beaugard 0-1). Turnovers: Bryant 11, Benton 11.