Junior Hornets end Lake Hamilton's streak
EDITOR'S NOTE: Because the look back at each day in Bryant athletic history has been so favorably received during the time when there was no sports during the COVID-19 shutdown, BryantDaily.com will continueposting past stories of Bryant athletics either posted on BryantDaily.com (from 2009 to the present) or published in the Bryant Times (from 1998 to 2008).
By ROB PATRICK
BRYANT TIMES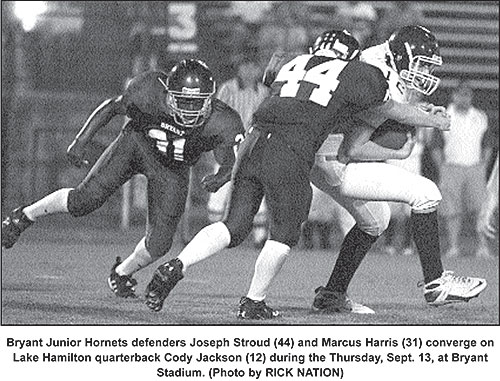 For the first time since September of 2004, the Lake Hamilton Junior Wolves lost a game against a South Division rival in the Central Arkansas Junior High Conference. And the team to do it was the same team that beat them back then: The Bryant Junior Hornets.
Lake Hamilton, two-time defending Division champ and last year's conference champion, is still expected to be in the running for a repeat but, with a convincing 35-14 win over the Wolves, the Hornets may now be the team to beat.
"They've had our number the last two years," acknowledged Bryant head coach Jason Hay, recalling in particular the 2005 season when his team's only loss all year came on a last minute kickoff return at Lake Hamilton. "I'd be lying if I didn't say that I wanted to get these guys. They've taken one from us, and they hit us in the chin last year, but we got them this year. I am proud."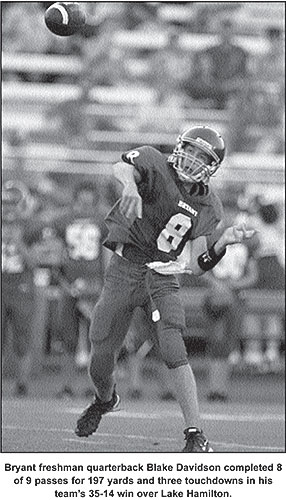 Hay emphasized, however, that one game does not a season make.
"The big deal is, I think, it's a confidence builder," he stated. "But the kids have got to realize just because we won a good game doesn't mean it's over. What we did this week is not good enough for next week. You've got to build on it."
Hay was particularly proud of quarterback Blake Davidson who, after playing in the Babe Ruth World Series until late August and getting limited practice time, struggled in the Hornets' opener, a 0-0 tie with Searcy. Against Lake Hamilton, Davidson connected on 8 of 9 passes for 197 yards and two touchdowns. He threw — and completed — just one pass after the half, helping the Hornets build a 20-6 advantage.
"Blake took a lot of the blame for Searcy," Hay mentioned. "We had a lot of dropped balls but when you're the quarterback at Bryant, everybody's watching them and you're either going to get too much of the credit or too much of the blame. I think he's carried the burden of the blame that last couple of weeks for our passing game when it's not all been his fault. Today, he came out and threw real good. He had some receivers make some good catches. I'm happy for the receivers and the quarterback finally getting in sync and I think it's a good confidence booster."
The game actually started like it was going to be another chapter in Bryant's book of frustrations against Lake Hamilton. After a 51-yard kickoff return by Tanner Tolbert to start the game, the Hornets were unable to manage a first down and, after coming up short on a fourth and 1 at the Lake Hamilton 30, the Wolves took over.
And, in three plays, they scored. Cody Jackson's swing pass to Tyler Bradshaw broke for 26 yards then Tyler Walker slashed through the Hornets' defense for 41 yards and a touchdown.
A two-point conversion failed, however, when Bryant's big Jordan Moore knocked down a pass in the end zone.
And the Hornets answered in short order, starting a dominating performance in which they scored 35 unanswered points.
Davidson's first pass to Hunter Mayall picked up 13 yards. He then went deep to Tolbert who got behind the Lake Hamilton secondary for a 51-yard touchdown, making it 6-6.
In turn, Lake Hamilton overcame a pair of holding penalties and was driving again, reaching the Bryant 33 when, on first down, Austin Johnson knifed through and dropped Bradshaw for a loss. The Wolves couldn't overcome that and, after a fourth-down pass came up well short, the Hornets took over at their own 36.
Lake Hamilton forced a punt but Walker fumbled Tolbert's kick. The ball, wet from a pre-game shower, squirted loose until, of all people, Tolbert himself came up with it for Bryant at the 24.
On the next play, Davidson passed to Josh Hampton. Hampton made the catch but the ball was knocked loose. Who was there to cover it? Tolbert.
And, on the next play, Davidson threw to Tolbert who turned it into a 26-yard touchdown pass, giving Bryant the lead for good.
Running the Arkansas Razorbacks' "wildcat" scheme, running back Dylan Pritchett, playing the role of Darren McFadden, faked a handoff to Tolbert (playing the role of Felix Jones) and crashed through for a 2-point conversion making it 14-6 with 4:51 left in the half.
And, suddenly, Lake Hamilton couldn't move the ball on the Hornets' defense. Facing a third-down and needing 4 yards for a first from their own 27, the Wolves turned to Walker, who would wind up with 112 yards rushing and both of his team's touchdowns on 15 carries. But Johnson dropped him for a loss and the Wolves were forced to punt.
A 59-yard punt turned the field over, giving Bryant possession at its own 16. But the Hornets turned it into points nonetheless. Pritchett reeled off runs of 13 and 10 yards then had a 12-yard burst negated by a hold. Facing a first-and-18 from their own 31, the Hornets went back to the air with Davidson connecting with Mayall who picked up an entourage of blockers and raced deep into Lake Hamilton territory. He was caught from behind inside the 5 and fumbled into the end zone. But the Bryant receiver scrambled after the ball and wrestled the ball away from the Lake Hamilton defensive back to earn the touchdown, making it 20-6.
Mayall's ball-hawking produced another touchdown early in the second half. With a good return of the kickoff and a 15-yard face mask penalty, Lake Hamilton had good field position on the first possession at the Bryant 44. But, on the first play, Walker was separated from the football. Mayall scooped it up and headed down the sideline for a 54-yard touchdown return.
After Tolbert did the Felix Jones-thing on the two-point conversion, Bryant held a 28-6 lead.
The Hornets's final score was set up by a Jacob Brady interception on a tipped pass at the Lake Hamilton 45. He returned to the 29 but, on first down from there, the Hornets were flagged for holding again. But Davidson threw deep to Brian Floyd, who out-leaped a Wolves defender to haul in the pass at the 2. Pritchett ran it in from there and with the extra point by Bo Stitch, Bryant was up 35-6 and Hay began to work in his reserves.
Lake Hamilton scored again on the first play of the fourth quarter on a 6-yard run by Walker and when the Hornets fumbled the ball back to the Wolves with 5:54 to play, the starting defense returned to stop a scoring threat at the Bryant 17.
Behind the running of Pritchett, James Glasper and Tyler Freshour, the Hornets ate up the final 3:29 to close out the win.
It was the Hornets' best performance of the season as they improved to 2-0-1. Hay admitted it was closer to what he and his team expected for this season but he asserted there was more work to be done.
"We had high expectations coming in (to the season)," he stated. "And, I think, after the first game, we had some people that doubted us. We've only won two games and that's all we're guaranteed. Every game we play in the this conference is a big one, every week you're playing for a conference championship. This is a very good start."
The Hornets face their first road test on Thursday, Sept. 20, against Conway White.