Hornets find a way; comeback haunts Panthers again
EDITOR'S NOTE: Because the look back at each day in Bryant athletic history has been so favorably received during the time when there was no sports during the COVID-19 shutdown, BryantDaily.com will continueposting past stories of Bryant athletics either posted on BryantDaily.com (from 2009 to the present) or published in the Bryant Times (from 1998 to 2008).
By ROB PATRICK
BRYANT TIMES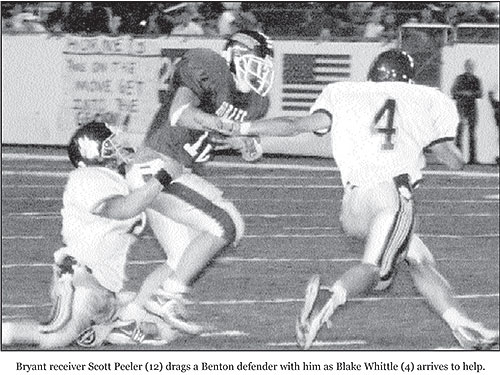 The Bryant Hornets football program has come a long way in the last four years. All you have to do is look at the record and you can see that in a superficial way. But for those that followed the team through any part of the lean seasons before, it shows in more subtle ways as well.
The program went 13 years in a row without posting a winning record. And the winning season they managed in 1985 snapped a 12-year run without a winning mark. Losing was a habit that perpetuated itself. Despite their best efforts, the Hornets always seemed to be a victim of Murphy's Law: Whatever can go wrong, will go wrong. Losing seemed to stalk them.
That's why these are such heady days for Hornets fans. Now, even in the tightest spots against a highly motivated opponent, the Bryant Hornets expect to find a way to win. And more often than not over the last four seasons, they have. Just like they did Friday, when, for the second year in a row, they rallied from behind to upend the arch-rival Benton Panthers, 16-13, in the third annual Salt Bowl before a throng of around 10,000 at War Memorial Stadium in Little Rock.
Sophomore Todd Bryan kicked his third field goal of the night with 5:15 left to play to complete the comeback. It was the first time Bryant led all night and the defense made it stand up with not one, but two stands against the Panthers (see related story.)
Senior quarterback Lance Parker accounted for 363 yards of total offense to lead the offense. Much of that came on big plays as the Hornets struggled to put together a consistent attack. No surprise, really, since the Panthers were playing an aggressive, gambling defense.
"We had too many mental breakdowns in the offensive line," commented Bryant's co-offensive coordinator and offensive line coach Paul Calley. "We saw a bunch of multiple fronts from Benton, a lot of different blitzes. And sometimes they guessed right and stopped us. Sometimes they guessed wrong and we broke big plays against them.
"That's what we're going to face all year," he noted. "It's frustrating to me because I'm the type of person, I want to put together consistent drives where we're getting first downs, we're moving the ball down the field. We've been unable to do that and that's frustrating to me and to the kids because they feel like we're not being successful. It takes some mental toughness."
Those big plays for the Hornets repeatedly got them in scoring range only to those big plays by Benton's defense keep them out of the end zone. Fortunately, Bryan came through in all three of his attempts and, once in the third quarter one of the Hornets' big plays went the distance.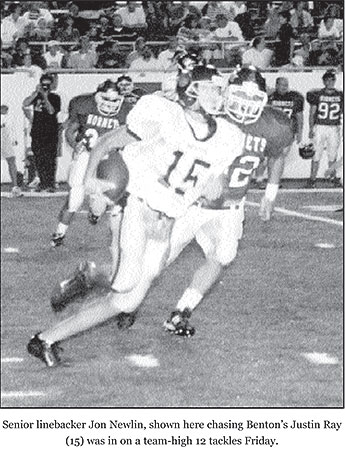 Parker and Brandon St. Pierre teamed up on a 33-yard pass and run for Bryant's only touchdown with 3:43 left in the third period. With Bryan's pressure-packed extra point, the Hornets tied the game at 13 at that point.
Another of those big plays set up the decisive field goal. Benton had punted the Hornets back to their own 10 with 7:57 left in the game. On the first play, junior receiver Zach Cardinal got solo coverage on the outside and Parker went to him on the fade route. Despite some pushing and shoving, Cardinal tipped the ball in the air and came down with it, racing down the sideline on a 75-yard play to the Benton 15.
Two plays later, however, it was the Benton defense's turn. The Hornets faced a third-and-3 at the 8. Parker dropped back to pass but the Panthers' blitz got to him for a 7-yard sack to the 15. But Bryan came through with the field goal.
Both of the Hornets' first-half scoring drives unfolded in similar fashion.
Benton owned the first quarter. After the teams traded punts, the Panthers put together an impressive 89-yard march that caught the Hornets on their heels. It took 15 plays and over seven minutes off the clock. Using mostly short pass routes, mixed with a few running plays, Greer led his team steadily down the field. Blake Whittle's 2-yard run converted a fourth-and-one at the Bryant 30. Three passes later, Greer connected with Jeremy Westerman on a 13-yard touchdown pass.
Jared Little kicked it to 7-0.
On the next play, Benton linebacker Brandon Burks intercepted a Parker pass and Benton was in scoring range again. But a holding penalty knocked the Panthers back, too much ground for them to make up as the Bryant defense stiffened. Little was wide right on a 49-yard field goal try.
The Hornets' offense, which had done little to that point, got a lift when Parker broke a quarterback draw for 68 yards to the Benton 12. Moments later, Bryan knocked through a 32-yard field goal to get Bryant on the board.
After Bryant's defense stopped another Benton foray into its territory and forced a punt, both teams went three and out. With 4:17 left, Bryant had the ball on its own 21. On second down, the Hornets came up big again as Parker hit A.J. Nixon for a 43-yard pass play. A pair of completions to Scott Peeler reached the 15 then Parker scrambled to the 4.
After a Benton timeout with 1:36 left, however, the tide turned and it was the Panthers that made the big plays. St. Pierre, running a sweep, was dropped for a loss of 10 then the blitz got to Parker for another big loss back to the 24. On third and goal from there, Parker slipped a pass to St. Pierre for 15 yards to the 9.
Both teams took a timeout there as the Hornets got organized for a field goal try and the Panthers tried to ice Bryant's sophomore. But Bryan, unfazed, drilled the 27-yarder to make it 7-6 at the half.
"It's early in the year," Calley said of the breakdowns in the red zone. "Our offensive line is young. We didn't play bad but we didn't play as well as we can, as I hoped we would. A lot of things we talked about, that I told them Benton would do to us, they did, but we didn't pick it up. We've got to be more aware of what's going on around us. A lot of times, we're zoned in on one thing and it's hurting us. They got pressure up the middle. Our protection scheme was sound, we just didn't execute."
The Hornets' second half didn't start out too well. Parker hit St. Pierre on a short pass play but when St. Pierre was battling for extra yardage, he had the ball knocked out of his hands. Whittle recovered at the Bryant 27. Five plays — all running plays — Benton's Jake Morgan scored from the 2. But when Little missed the extra point, the lead was just 13-6.
A pair of penalties undermined Bryant's ensuing possession and Peeler was forced to punt from the shadow of his own goal line. Justin Ray's 15-yard return gave Benton great field position again at the Bryant 28.
This time, however, the Panthers picked up just one yard in three plays. Little came on again and, under pressure from Bryant's Brad Parker, missed a 44 yard field goal try.
Bryant responded with a scoring drive to tie it. A 22-yard strike from Parker to St. Pierre and a 27-yard run by Parker (who, again, made the quarterback draw work) set up the touchdown connection.
Benton responded with a drive from its own 10 to the Bryant 20, marked by Greer's passes of 24 and 23 yards to Ray and 22 yards to Joey Hritz. But, on a first down at the 20, Greer tried to force a throw into coverage. The ball was tipped and Peeler intercepted.
The Panthers were never as close again. They were, however, able to force another Bryant punt and a strong return by Whittle had them back in Bryant territory. This time, however, they just reached the 32 where the Hornets' Josh White came through with a sack of Greer. Brad Parker then knocked down a third-down pass and the Panthers were forced to punt, setting up the Bryant drive that produced the tie-breaking field goal.