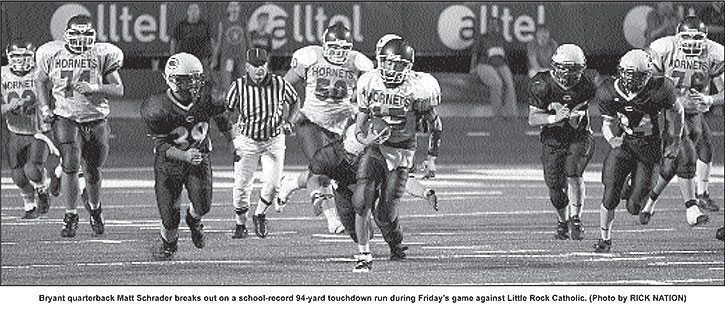 Hornets rise above adversity to drop Rockets
EDITOR'S NOTE: Because the look back at each day in Bryant athletic history has been so favorably received during the time when there was no sports during the COVID-19 shutdown, BryantDaily.com will continueposting past stories of Bryant athletics either posted on BryantDaily.com (from 2009 to the present) or published in the Bryant Times (from 1998 to 2008).
By ROB PATRICK
BRYANT TIMES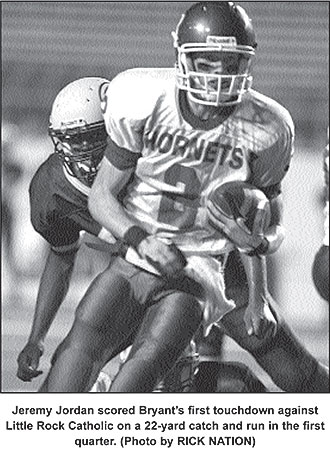 LITTLE ROCK — In every successful football season, there seems to come a point when the team, faced with adversity piled onto adversity, shows its character, it's mental toughness and proves (to the players themselves sometimes more importantly than to others) that they have what it takes.
For the 2006 Bryant Hornets, that moment may have come in their 7A-Central Conference opener, a 26-10 win over the defending champion Little Rock Catholic Rockets at War Memorial Stadium.
The adversity actually started earlier in the week. Hunter Stobaugh, who figured to be a key component of the Hornets' offense this season, was ready to return to action after sitting out the first three games with a shoulder injury. Practice went well most of the week, according to head coach Paul Calley.
"We had game-planned around Hunter, trying to take advantage of his talents," Calley acknowledged, "and towards the end of practice on Thursday, he took a shot to the collarbone again so he was out."
Plans were adjusted but there was little time to practice on them. Then, with the game barely under way, there was another complication when the team's top returning receiver Jake Jackson rolled an ankle on the first play from scrimmage.
"He couldn't go," Calley said, "and we had different personnel packages for every formation. When he went down, it blew the whole thing. So we were scrambling, trying to make sure we had the right people in the game."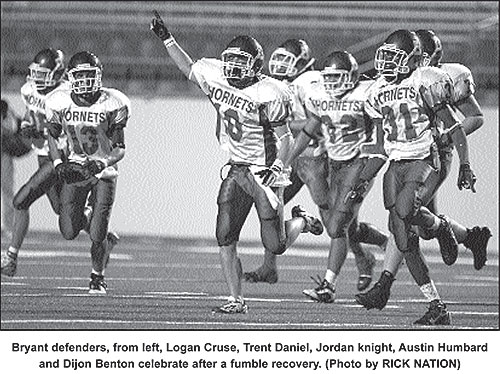 Later, cornerback Trent Daniel, trying to tackle Catholic's star fire hydrant of a running back LaNorris Dukes, got kneed in the head. Though it turned out to be a minor concussion, for precaution, the game was held up while Daniel was loaded onto a gurney, wheeled to an ambulance and taken to the hospital for x-rays; a distressing sight.
That came early in the second half with Bryant clinging to a 7-3 lead. It was 13-3 when Dukes, bottled up for most of the night, broke loose for a 46-yard touchdown run that had the Rockets back within 3. And when the kickoff was bobbled and the Hornets were forced to start at their own 7, it looked like the momentum of the game had swung completely Catholic's way, particularly because the Rockets had intercepted quarterback Matt Schrader's last two passes.
A holding penalty negating a 14-yard run by Schrader added to the stress, backing the Hornets up to the 6. That's when Schrader stepped up and broke a 94-yard touchdown run, the longest scoring play in school history, to bump the lead to 19-10. The run broke a record for longest touchdown run set in 1961 by Tinker Green, who went 88 yards. It also broke the record for longest touchdown play which was previously a 90-yard pass from Jeramie Wooten to Matt White set in 2000.
The Bryant defense didn't allow another first down the rest of the game and the Hornets tacked on a late touchdown to set the final score.
The Hornets had answered the challenge.
"Everybody's overcoming adversity," Calley declared, "the players, the coaches. We asked some kids to step up and some young kids came through. We had some sophomores make some big plays. That's a plus.
"We had to answer right there because they had the momentum," the coach commented of Schrader's big run.
Calley noted that Catholic's defensive alignment had made it difficult to pass at that point. The Hornets had to run it.
"The way they would line up to our doubles set, they only left five in the box," he explained. "But we were countering, lead-blocking with the back, so we had them out-numbered. That's why we were trying to run Matt. Anything else we got into, they were running those twist stunts and doing so much crazy stuff inside, it turns into a guessing game. And we had not guessed right but a couple of times. Being that deep in our own territory, we needed to get some first downs.
"In our three wins, we've been able to run the ball and that bailed us out," he added. "That's positive for us. You know, it's always been our passing game that bailed us out before, now it's our running game. But as we get further into conference play, it's going to be tougher and tougher to run the ball and our passing game has got to come through at some point. It's getting better, I think."
Even without Jackson, Schrader completed 11 of 19 passes for 98 yards and a touchdown, a 22-yard catch and run by sophomore Jeremy Jordan in the first half.
And, as it turned out, Schrader picked up 131 yards on the ground with sophomore Aspen Trevino adding 91 on 18 carries and a score. Schrader out-gained the highly regarded Dukes who finished with 24 carries and 115 of Catholic's 182 yards of total offense.
"We're proud of the work," acknowledged Bryant defensive coordinator Steve Griffith. "We had worked real hard on reading keys. We felt like that was a big point that we needed to get across to the kids. (The Rockets) do a great job of running power football and they do a great job off play-action so that means that there are certain keys that will tell us if it's going to be a pass or a run. We really had to be focused in on that. And we did a good job of that.
"We did a good job of gang-tackling on Dukes," he added. "Obviously, he popped one through and we had a couple of missed assignments on that play and that's a key. You have to have 11 guys doing their job on every play when you're faced with a quality opponent with good running backs. That'll be a key against Pine Bluff as well."
The Hornets renew their rivalry with Pine Bluff at Homecoming on Friday, Sept. 29.
Griffith's charges came through from the outset. Thanks to a 30-yard kickoff return to start the game by Jordan Knight, the Hornets had good field position for the game's first possession. But, on a fourth-and-1, they went for it from their own 47 and were stopped.
"We gambled there trying to get a first down, trying to get our offense some confidence, take advantage of field position," Calley explained. "We didn't get it, gave them the ball and the defense did a great job of holding them to 3 points."
The Rockets drove to the 10 but, on a second-and-9 play there, Dukes was knocked for a loss as linebackers Jared Szabad, Austin Humbard and safety Logan Cruse hauled him down. A third-down pass fell incomplete and the Rockets had to settle for Nathan Ashburn's 30-yard field goal.
Later, the defense set up the Hornets' first score, separating fullback Joe Gardner from the ball at the Bryant 46. Szabad recovered.
Schrader completed six of seven passes on the subsequent touchdown drive including a clutch 8-yard connection with Taylor Masters that converted a fourth-and-4 from the Catholic 30.
Masters wound up with six catches for 50 yards in the game.
On a second-and-10 at the 22, Jeremy Jordan, running a slant, caught Schrader's pass in stride, side-stepped a tackler and sprinted to the opposite corner of the end zone for the touchdown that put the Hornets ahead to stay.
"At that point, I thought our offense went flat," Calley commented. "We moved the ball a little bit but we faded the closer we got to the goalline. We put our defense in some bad situations early in the second half but they bailed us out. Looking back, I can't believe we stopped them every time they got down there."
The Hornets managed to get close enough to try a field goal in the final minute of the first half but the kick was wide so it stayed 7-3 at the half.
Catholic's first drive of the second half reached the 33 but a penalty, a sack by Chris Taylor and an incomplete pass left the Rockets attempting in vain a 51-yard field goal.
But the Rockets were soon back in scoring position after an interception by Zach Sebo that was returned to the Bryant 19.
Szabad stopped Gardner for no gain, Humbard and Taylor dropped Dukes for a loss and, after an incomplete pass, the Rockets lined up for another field goal attempt. This time, the Hornets broke through and Humbard blocked the kick.
"The blocked field goal was huge, a huge momentum swing," Calley said.
But a holding penalty and another interception had the defense under the gun again moments later. From the 16, however, the Rockets gained no ground. This time, they went for it on fourth down and Reid Thomas' fade pass into the end zone was too high for Nick Styn.
In turn, the Hornets were forced to punt from deep in their own end. But Cody Williams' kick bounced off the shoulder pads of Gardner and Jordan recovered at the Bryant 35.
A 24-yard run by Trevino turned the field but the Hornets stalled and had to punt. A play into Catholic's ensuing possession, however, the ball was jarred from Dukes' grasp and Knight recovered for the Hornets at the 14.
Schrader kept for 12 to the 2 then Seljan made a bid to score only to have the ball ripped from his arms in the struggle. It rolled into the end zone where Masters pounced on it for a touchdown.
An extra point attempt failed so the lead was 13-3.
And a play into the Rockets' next possession, Dukes broke his touchdown run to set up the turning point, Schrader's long run.
The two teams exchanged punts until, in desperation, Catholic went for it on fourth down from its own 19 with 2:50 left to play. Bryant held at the 28 and with left guard Jordan Mountjoy in the backfield as a blocker in the power I, sophomore lineman Eli Staton at tight end and Layth Qassas in Mountjoy's spot, Trevino carried on five consecutive plays, capped off by his 14-yard touchdown run with :18 left. Austin Bradley tacked on the extra point to set the final score.
And the final touchdown was of no small significance. At the end of the year, tie-breaking procedures involve score differential with a maximum of 13 points considered. A 16-point margin would be much more helpful than a 9-point difference.