Junior Hornets stop Sylvan Hills in opener
EDITOR'S NOTE: Because the look back at each day in Bryant athletic history has been so favorably received during the time when there was no sports during the COVID-19 shutdown, BryantDaily.com will continueposting past stories of Bryant athletics either posted on BryantDaily.com (from 2009 to the present) or published in the Bryant Times (from 1998 to 2008).
By ROB PATRICK
BRYANT TIMES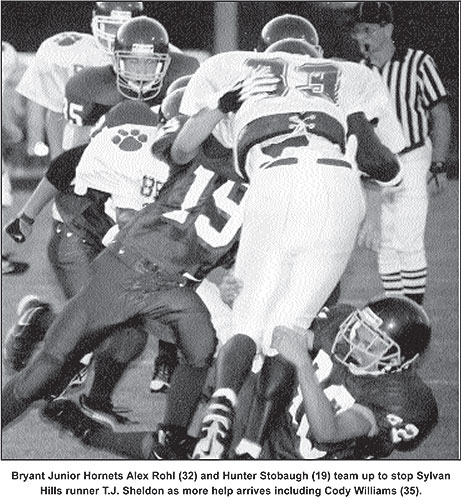 What a difference a year makes.
When the Bryant Junior High Mustangs eighth grade team played the Sylvan Hills Junior Bears eighth grade team last fall, the result was one of those games the BJHS squad would just as soon forget. Sylvan Hills rolled to a 31-6 win.
And, on Thursday, Sept. 4, 2003, there was Sylvan Hills to provide the season-opener for the now Junior Hornets freshman team and their new head coach Jason Hay at Bryant Stadium.
There was a bit of trepidation in the Junior Hornets' camp prior to the outing. No one wanted to be the first BJHS team to lose a season-opening game since 1996.
Now the 2004 Junior Hornets can worry about that because this year's team rose up and not only defeated that same Junior Bears team, but shut it out, 7-0.
"I am so proud of these guys," Hay declared. "It just shows what hard work can do. I can say enough about these kids. And I give credit to our defensive coaches, Coach (Terry) Aycock, Coach (Bart) Reynolds and Coach (Randy) Aaron."
The Bryant defense came through with a goal-line stand in the waning moments of the game to clinch the victory. After the Junior Bears had first and goal at the 5, they could get no closer than the 3 where their fourth-down play was snuffed out by Matt Bonner and Chris Lawrence after Ryan Wilson forced running back T.J. Shelton wide.
The Junior Hornets took over with 1:01 left in the game and ran out the clock for the victory.
For the game, the Bryant defense held Sylvan Hills to no gain or lost yardage on 13 of 33 snaps.
The only score of the game came late in the first half when quarterback Tyler Pickett found wide receiver Joey Winiecki behind the Sylvan Hills defense for a 34-yard touchdown pass. Kicker Lucas Nossman added the extra point even though he had to do it twice. A penalty negated the first try and moved him back 5 yards for the second.
Pickett missed his first three pass attempts then had a fourth that was on target dropped at the start of Bryant's scoring march. Pickett then hit three pass attempts in succession. A 4-yard pickup on the first completion to Nick Hoffman got him on track. He then whipped an aerial over the middle to Wilson for 19 yards to the Sylvan Hills 25.
On the next play, however, Shelton sacked Pickett to set up a second-and-19 from the 34. Bryant scored on the next play.
Sylvan Hills put their best drive together to that point to start the second half. Runs by Shelton and Cookie Kareem reached the Bryant 30. But, on a second-and-seven Adam Brohl knifed through to drop quarterback Marcus Lewis for a 4-yard loss and, on third down, the Junior Hornets piled up Shelton with Brohl, Jordan Mountjoy and Dale Finney leading the charge.
On fourth down, a high snap prevented Lewis from getting a punt away. Brohl dropped him for an 18 yard loss and the Bryant offense was in business again. Pickett scrambed for 8 yards then Carpenter busted loose for 12. The Junior Hornets reached the 20 where, on a third-and-two, Pickett snuck for the first down.
Bryant appeared to have another touchdown on the way just a few plays later but Pickett's pass was dropped at the goal line. A play later, Nossman came in to try a 32-yard field goal. It was, however, short of the mark.
Sylvan Hills took over at the 20 and promptly put together the drive that wound up threatening Bryant's win. Lewis was dropped for a loss of 4 by Finney on first down but after an 8-yard pass completion, Shelton broke tackle after tackle and muscled clear. But Bonner made a touchdown-saving tackle at the Bryant 34.
Robert Green followed up with runs of 17 and 6 yards to get to the 11 before Brohl broke through to drove Davon Neal for a 3-yard loss. Green was held to a yard to set up a fourth-and-7 at the 13. This time, Shelton blasted 8 yards for the first down at the 5.
Shelton was stopped for no gain with Finney leading the swarming Bryant defense on first down, then Ethan Young pulled down Lewis for a loss of 2.
With third-and-goal at the 7, Sylvan Hills called timeout with 1:55 to go. Again, however, the Hornets were up to the task. On third down, Green managed a meager yard before being buried by Wilson and Marcus Turpin. That set up the game-clinching fourth-down stop.
Bryant will go for win No. 2 on Thursday, Sept. 11, at Searcy.