Bryant freshmen ease past East to notch first victory
EDITOR'S NOTE: Because the look back at each day in Bryant athletic history has been so favorably received during the time when there was no sports during the COVID-19 shutdown, BryantDaily.com will continueposting past stories of Bryant athletics either posted on BryantDaily.com (from 2009 to the present) or published in the Bryant Times (from 1998 to 2008).
By ROB PATRICK
BRYANT TIMES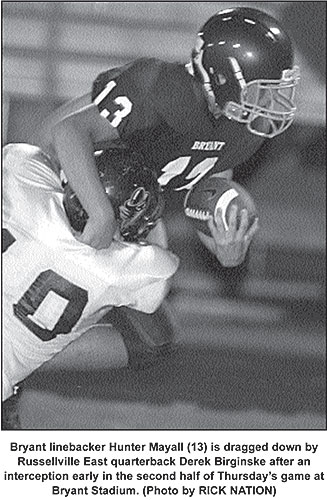 Bryant freshman football coach Jason Hay is not one for excuses, even if they're legit. So, after his team's disappointing 0-0 tie with Searcy in its season opener on Thursday, Aug. 30, he didn't mention the fact that a significant number of his prime-time players hadn't been available for practice for much of the preseason.
In all, nine Junior Hornets were members of Bryant Babe Ruth baseball teams that made an unprecedented run into the post-season. Both 13- and 14-year old teams made it to their respective World Series tournaments which didn't conclude until the weekend before the first football game.
Hay blamed himself for not having the team ready and vowed there would be improvement.
And there was. In their second game, a final tune-up before beginning competition in the South Division of the Central Arkansas Conference, the Hornets rolled to a 21-0 halftime lead, wound up playing about everyone and finished with a 28-6 victory over the Russellville East Whirlwinds on Thursday, Sept. 6.
Hay was encouraged but still certain his team could be, and will be, better.
"I saw that our running game was greatly improved even though I thought our running game was decent last week," he commented. "Our passing game was improved but it's still not what I expect. I think, right now, it's about average and I'm looking for great. We still have some miscommunication between our receivers and quarterback. That's all timing. Offense is always the last to get ready. We're going to get them there. We're going to be ready for Lake Hamilton next week."
The Junior Wolves have won back-to-back Division titles and remain the only league team that has beaten Bryant both of the last two seasons. In fact, Lake Hamilton hasn't lost a South Division game since Sept. 30, 2004, when Bryant handed it a 17-13 loss. That's 16 straight in the division. In 2005, Lake Hamilton ran back a kickoff in the closing seconds to extract a win over Bryant which ended up deciding the division title. It was, in fact, the only loss for the Hornets that season.
"We owe something to Lake Hamilton," Hay acknowledged. "They got us two years in a row. We've finally got them at home and we're going to have a good week of practice."
Against the Whirlwinds, the Bryant defense was once again rugged. In the first half, Russellville managed just two first downs and 25 yards of total offense. Even when the subs started playing, the Hornets made a goal-line stand against the 'Winds' first team offense. Russellville finally got on the board with 5:08 left in the game but, by then, Bryant had built a 28-0 lead. The Hornets' reserves on offense answered with a drive from their own 20 to the Russellville 2, eating up the rest of the game.
"Our d-line, they're just big old brutes," Hay declared. "I don't know what they average. A.J. (Austin Johnson) is probably 250, (Josh) Hampton's probably 220, our noseman (Matt Jones) is probably close to 200. We're pretty salty. Our defense, right now to me, is still the strongest part of our team."
It didn't take the offense long to put up points, however. After Kollin Lewis covered Russellville's onside kick to start the game at the Bryant 49, the Hornets pounded to paydirt in eight running plays featuring Dylan Pritchett who eventually scored from 8 yards out.
Pritchett rushed for 76 yards on 13 carries with three touchdowns in just the first half. He added only one tote in the second half to finish with a game-high 80 yards.
The defense forced fumbles on each of Russellville's first two plays. On the second, a tipped pass that was caught by a Whirlwind lineman who then fumbled, was recovered by Jacob Brady 32 yards away from another score.
Bryant covered that in four plays. Quarterback Blake Davidson completed passes to Caleb Garrett, for 3 yards, and Hampton, for 11. A play later, Pritchett sliced through the Whirlwind defense on a 19-yard TD jaunt.
Bo Stitch, perfect on four PAT's, made it 14-0 with 1:33 still to play in the first quarter.
The teams exchanged turnovers with Joseph Stroud, who recovered two the previous week, pouncing on the loose ball that gained possession for Bryant.
The teams exchanged punts with Russellville kicking from inside its 20. Pritchett fielded the kick and returned 39 yards to the 4 only to have a personal foul penalty push the ball back to the 19. But five plays later, Pritchett bulled in from the 1 and, with Stitch's kick, Bryant led 21-0 at the half.
Hunter Mayall intercepted a Russellville pass to end the first possession of the second half, returning to the 9. Again, however, a penalty negated some of the return and Bryant set up offensively at the Winds' 20. Pritchett picked up 4 yards then Davidson threw a quick pass to Mayall in the flat and he powered his way to a touchdown to make it 28-0 with 5:54 left in the third quarter.
With Hay and his staff working in their reserves, Russellville finally got a drive going after that, marching from its 39 to the Bryant 8. A 7-yard run by Hunter Fields got the Whirlwinds to the lip of the goal but they were denied. On second down, Marcus Harris knifed through to drop Fields for a loss at the 4. On third down, the Hornets stuffed a run for no gain and a fourth-down try was stopped short to complete the stand.
Early in the fourth quarter, the Whirlwinds got the ball back and drove 44 yards to their score. An offsides penalty on a fourth-and-2 at the Bryant 36, helped keep the drive alive and, ultimately, quarterback Derek Birginske passed to Ru Massey for the 4-yard touchdown.
In eating up the final five minutes of the game, Bryant picked up good yardage on the ground from James Glasper, who broke a 24-yard run to midfield, just stepping out of bounds as he tightroped the sideline. Tyler Freshour also ran the ball well including a 10-yard burst that reached the Russellville 5. Stitch, in at quarterback, completed a trio of passes in four attempts, an 11-yarder to Dylan Blasi, a 5-yarder to Kyle Nossaman, and a 10-yarder to Nick Moore.