By Rob Patrick
SHERIDAN — Before the game between the Bryant Lady Hornets and the Sheridan Lady Jackets at Oliver Williams Gymnasium on Tuesday, Jan. 5, the public address announcer mentioned, at least twice, that the home team was taking on the "unbeaten" Bryant Lady Hornets.
It served to whip the home crowd into even more of a frenzy and, no doubt, if the Lady Jackets could've been more fired up than they already were, it served to make up the difference.
But they had marked Tuesday, Jan. 5, on their schedule, planning for their opportunity to avenge a close loss at Bryant and remove the "unbeaten" from in front of the Lady Hornets' moniker.
And, sure enough, they did thanks to a free throw by Amy Strange with :05.3 showing on the clock and a steal by Strange on a Bryant inbounds pass at midcourt with :02 left. That secured a 49-48 win for Sheridan that left the Lady Hornets 12-1 during their non-conference schedule.[more]
Both teams open league play on Friday. Bryant hosts rival Mount St. Mary's in its 7A-Central debut while Sheridan visits Pine Bluff in its 6A-South lid-lifter.
Bryant head coach Blake Condley, who has aimed to have his team learn and get better with every game, did not change his tune after the loss.
"Most of our close games so far have been in tournaments where there's really no crowd there," he noted. "I think it'll be good for us down the road. This group responds well. They learn from situations. Hopefully, we'll just learn from it and move on.
"The girls played hard," he added. "They got after it, but Sheridan played really well. They shot pretty well and, honestly, it hurts. We want to win them all but this (non-conference) season's over and our new (conference) season starts Friday night."
Sheridan started the game on fire, particularly junior guard Lauren Sweeten who scored 14 of her team's first 19 points on her way to 20 for the night. She scored the first 4 points of the game and, after Bryant had rallied to tie it at 8, she followed a basket by teammate Annie Wilkins with a 3.
Karson Henry, who finished with 10 points, hit a free throw before Bryant's Shanika Johnson took a nice feed from Alana Morris for a layup to make it 14-10, Sheridan, going into the second quarter.
Sweeten then hit a 3 and followed up with a steal and layup to start the second period, extending the lead to 19-10, her team's largest of the game.
Haley Montgomery hit a free throw to start a Bryant surge. The Lady Hornets forced a turnover and Johnson hit an 18-footer. After both teams missed chances to change the score, Hannah Goshien got free for a layup for Bryant.
Goshien, who led Bryant with 17 points, took a feed from Morris who had forced a turnover, and hit another layup and when Kenzee Calley followed her own miss and earned a triip to the line, she tied it with two free throws, 19-19.
Strange, who finished with 9 points, drained a 3 to snap the tie but two free throws by Bryant's Brooke Parish and a 3 by Goshien had the Lady Hornets back on top.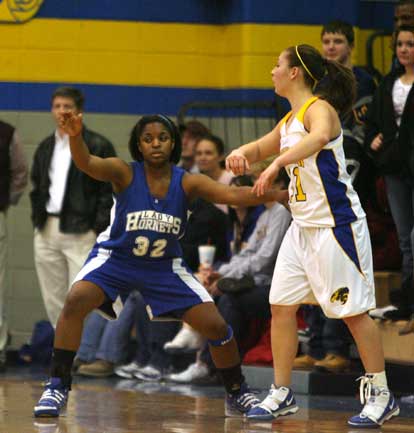 Bryant maintained a 26-24 edge at the half.
In the third quarter, Bryant led 30-28 before Abbi Stearns sparked another Lady Hornets' spree when she banked in a short jumper. She then blocked a shot attempt by Wilkins and Goshien took advantage by burying another 3. And when Calley dished to Morris for a layup with 4:00 left in the third, Bryant held a 37-28 lead.
Sheridan, however, after a timeout put together its own rally. Sweeeten sparked it with a trey. Mycah Love added to that with a driving jumper.
After Goshien got free for a layup with 1:20 left in the period, it appeared the Lady Hornets had answered the charge. But, with :10 left, Strange knocked down a 3 to trim the lead to 39-36.
Goshien scored off an assiste by Johnson to start the final period but Love popped a 12-footer, Strange scored on a drive and Sweeten nailed her fourth 3 and suddenly Sheridan was back on top.
While the Lady Hornets continued a stretch of almost four minutes without scoring, Henry's three-point play bumped the margin to 46-41 with 4:18 still to play.
And the Lady Jackets had a chance to extend the margin further only to have Goshien make a steal that she eventually cashed in with her third 3 of the game.
Henry answered inside but Morris fed Stearns inside for Bryant and her basket came despite a foul. She was unable to convert the free throw but Calley made a steal to give Bryant a chance to tie or take the lead.
Though a turnover spoiled the opportunity initially, Morris came back to make a steal. The Lady Hornets were on the run and nearly had a layup on a 2-on-1 but Love hustled back and knocked the ball out of bounds under the Bryant basket to prevent a layup.
On the inbounds pass, Stearns got a look in traffic and, though her shot rimmed out, earned a trip to the free-throw line where she promptly tied it despite the din created by the Sheridan fans.
Sheridan worked its offense until there was just :35 on the clock. After a timeout, they continued until, with :05.2 left, Strange drove down the lane and was fouled.
Condley called timeout to set up plans for a final possession and, when play resumed, Strange missed her first free throw. But she nailed the second to snap the 48-48 tie.
Bryant worked the ball to midcourt and called timeout just before Montgomery was knocked to the floor. With :02 left, Goshien tried to inbounds the ball as Sheridan scrambled on defense to prevent it. When the throw came in, Strange swiped it to seal the final result.
"They just made more plays late in the game," commented Condley. "We had a spot where we were up 9 in the third quarter and we needed to stretch it out a little bit there. They cut it back and when they hit that 3 at the end of the third quarter, that was a big momentum swing for them.
"If we could've made just one more play at the right time, I feel like we'd have been okay but, I told the girls, when you play a good team at their place, you better not let it come down to a possession or two at the end. It needs to be a little bit more than that to where you can secure a win.
"There was no way we were going to get any breaks," he mentioned. "We had an inbounds play and Abbi catches it in the lane and she gets hammered pretty hard. I'm thinking if she makes that and gets the free throw then we go up 1. But she gets fouled and makes two free throws and we're tied. I think about one where Alana jumps right between two defenders and scored and they called a walk on her. We just needed one more play somewhere."
LADY JACKETS 49, LADY HORNETS 48
Score by quarters
BRYANT 10 16 13 9 — 48
Sheridan 14 10 12 13 — 49
LADY HORNETS (12-1) 48
Montgomery 0-5 3-4 3, Goshien 7-10 0-0 17, Calley 2-5 4-4 8, Stearns 2-2 2-3 6, Morris 2-6 0-0 4, Parish 0-2 2-2 2, Johnson 4-7 0-0 8. Totals 17-37 11-13 48.
LADY JACKETS (5-7) 49
Love 2-5 2-2 6, Sweeten 8-13 0-0 20, Wilkins 2-5 0-4 4, Henry 4-7 2-3 10, Strange 3-4 1-2 9, Wreyford 0-0 0-2 0, Clark 0-0 0-0 0, Weigand 0-1 0-0 0. Totals 19-35 5-13 49.
Three-point field goals: Bryant 3-13 (Goshien 3-6, Montgomery 0-3, Johnson 0-3, Calley 0-1), Sheridan 6-8 (Sweeten 4-6, Strange 2-2). Rebounds: Bryant 20 (Morris 5, Parish 4), Sheridan 22 (Henry 6). Turnovers: Bryant 15, Sheridan 13. Team fouls: Bryant 14, Sheridan 6.