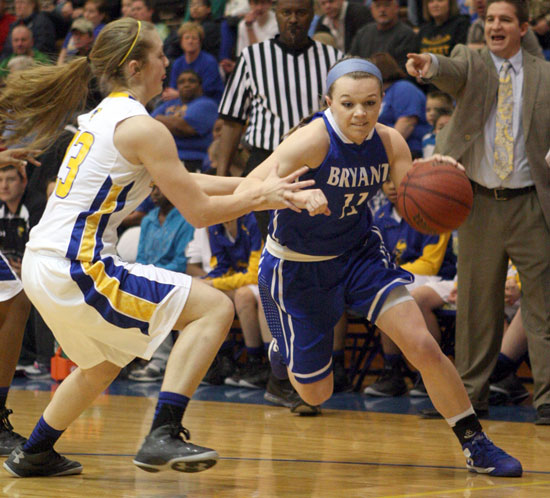 Photos by Rick Nation and Kevin Nagle
By Rob Patrick
SHERIDAN — If you had told Bryant Lady Hornets head basketball coach Brad Matthews before[more] their game that his team would hold the Sheridan Lady Yellowjackets' Kadesha Cooper and Bryanna Moltz to just 6 points combined, chances are he'd take it figuring that victory was in the mix as well.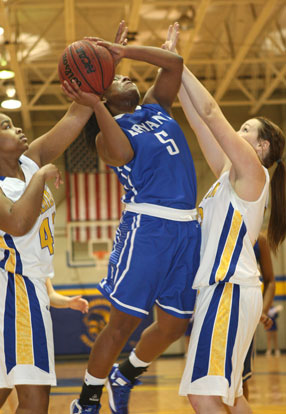 But not only was it a long night for those two, it was also a tough night for two of Bryant's top scorers as Dezerea Duckworth and Courtney Davidson were held to 8 points combined, all on free throws.
Though Bryant senior Logan Davis popped five 3's on the way to a game-high 20 points, the Lady Jackets got 10 points from sophomore Ashton Hill and 9 off the bench from Annie Wilkins to eke out a 40-34 win at Oliver Williams Gym.
The win gave Sheridan a sweep of the Lady Hornets in South Conference play. The Lady Jackets improved to 13-8 overall and 6-5 in conference play. Bryant, which could've pulled even with Sheridan in the standings with a win, dropped to 10-15 and 4-7 with a home game against Texarkana coming up on Tuesday before they finish out the regular season at Lake Hamilton then home against El Dorado. Each of those games will be crucial to the Lady Hornets' bid to make the Class 7A State Tournament.
Defense was the theme of Friday night's contest. Matthews had his team using a mix of defenses including a box-and-one on Moltz and what looked like a triangle-and-two with man defense on Moltz and Cooper, along with a helping man-to-man and a match-up zone.
Sheridan mostly used a 1-3-1 zone trap that it'd extend to three-quarter court. In the half-court, they shut off the driving lanes, which frustrated Davidson and Duckworth, who are both at their best attacking the basket. But when they did against Sheridan, the defense collapsed around them, cutting them off and, because of the Lady Jackets' size, even the pull-up was taken away much of the time. And, if the Lady Hornets managed to get through that, Sheridan point guard Josey Love was on the back end, setting up to take a charge.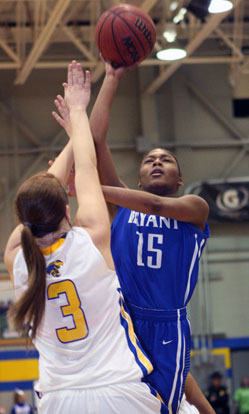 The holes in Sheridan's collapsing zone were in the corners and Davis did a good job of exploiting them. She poured in three triples to open the game, giving her team a 9-3 lead.
The Lady Jackets started doing a better of job of finding Davis the rest of the half and they were able to rally, taking a 15-13 lead at the half. Hill, who hit two 3's in the half, put Sheridan ahead for the first time in the game with 3:41 left in the half. Bryant's Jayla Anderson hit a jumper in the lane but Brittany Johnson hit a 12-footer to put Sheridan on top at the break.
Davis opened the second half like she did the first, taking a kickout pass from Duckworth and nailing a trey. That gave Bryant a 16-15 lead.
But when Sheridan's Hannah Schultz posted up for a basket and Cooper followed with a short jumper, the Lady Jackets were ahead to stay.
Two free throws by Duckworth cut the lead to 19-18 but then Sheridan reeled off a 10-0 run.
Two free throws by Davidson in the final minute of the third quarter made it a 9-point game going into the final period. It also sparked a Bryant rally as the Lady Hornets began to extend their defense and force turnovers.
Anderson opened the fourth quarter with a pair of free throws. Duckworth followed up with a steal and Davidson got to the foul line for a free throw. A steal by Destin Nichols led to a trip to the line for Duckworth. She converted once then made another steal.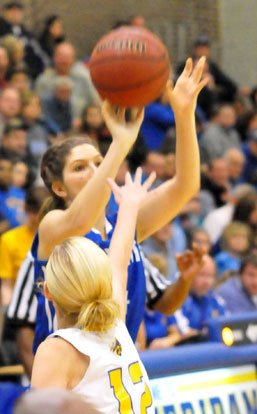 Though the Lady Hornets turned it back to Sheridan, they turned around and forced a five-second call on the inbounds play. Duckworth found Davis and she drained her fifth troika, cutting the margin to 29-27 with 5:53 to play.
Sheridan regained a bit of momentum at that point as Cooper dished to Johnson for a basket. Wilkins then made a steal and hit a layup to push the lead back to 6. A jumper in the lane by Anderson had Bryant back within 33-29 with 4:42 left.
That's when the game turned. Wilkins got open on the left wing and hit a 3. At the other end, Davidson drove the lane and, on a call that could've been block or charge, Sheridan's Love got the benefit of the doubt and, instead of Davidson going to the line to whittle on the lead some more, Sheridan had possession and a chance to extend the lead.
They tried to spread the floor and use some clock but Anderson and Nichols combined to force a turnover only to have Anderson's layup attempt blocked. The Lady Hornets retained possession and Peyton Weaver got a look at a 3 but it wouldn't fall.
Moments later, however, Davis made a steal and layup to trim the margin to 36-31 with 2:39 left but, in turn, Cooper posted up and scored despite being fouled.
Both teams had chances to change the score at the free throw line. Twice Bryant had bonus opportunities but only got one free throw out of each trip.
The lead was 38-32 after Duckworth's free throw with :50 left. With :37.5 to go, Love was fouled and converted both of her free throws to make it a three-possession game, pretty much out of reach.
Davis scored off an offensive rebound with :22 left, setting the final score.

LADY YELLOWJACKETS 40, LADY HORNETS 34
Score by quarters
BRYANT 9 4 7 14 — 34
Sheridan 6 9 14 11 — 40
LADY HORNETS (10-15, 4-7) 34
Player fg-fga ft-fta reb fls pts
o-d-t
Duckworth 0-10 3-5 2-0 2 1 3
Davis 7-13 1-2 2-3 5 3 20
Weaver 0-2 0-0 1-0 1 0 0
Davidson 0-4 5-6 0-4 4 3 5
Meyer 0-0 0-0 0-2 2 2 0
Smith 0-0 0-0 0-1 1 0 0
Anderson 2-6 2-2 1-1 2 2 6
Scarlett 0-0 0-0 0-1 1 0 0
Nichols 0-0 0-0 1-0 1 1 0
Baxter 0-0 0-0 0-0 0 0 0
Team 3-1 4
Totals 9-35 11-15 10-13 23 12 34
LADY JACKETS (13-8, 6-5) 40
Player fg-fga ft-fta reb fls pts
o-d-t
Love 0-3 5-6 1-4 5 3 5
Hill 4-6 0-0 1-1 2 1 10
Cooper 3-6 0-1 0-4 4 1 6
Schultz 2-2 0-0 0-1 1 4 4
Moltz 0-2 0-1 1-3 4 1 0
Wilkins 4-5 0-0 1-0 1 1 9
Mitchell 0-1 0-0 0-0 0 0 0
Johnson 3-4 0-1 0-1 1 2 6
Reed 0-0 0-0 0-0 0 1 0
Team 1-4 5
Totals 16-29 5-9 5-18 23 14 40
Three-point field goals: Bryant 5-16 (Davis 5-11, Duckworth 0-3, Weaver 0-2), Sheridan 3-9 (Hill 2-3, Wilkins 1-1, Cooper 0-3, Moltz 0-1, Mitchell 0-1). Turnovers: Bryant 16, Sheridan 18. Technical fouls: Bryant, Davidson; Sheridan, Wilkins.