Editor's note: This is a regular feature profiling senior athletes at Bryant High School.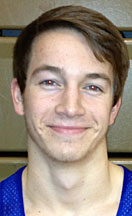 NAME: Skyler McKissock
PARENTS: My mom is Karen Bonvillain and my dad is Bill McKissock
SIBLINGS: I've two half-brothers, a real brother and a real sister and three step-siblings.
FAVORITE SUBJECT IN SCHOOL: Math
FAVORITE SPARE TIME ACTIVITY: Hang out with my friends and play basketball.
FAVORITE FOOD: Chinese
FAVORITE MUSIC ARTIST OR GROUP: Hip hop[more]
FAVORITE MOVIE: Four Brothers
FAVORITE TV SHOW: Moonshiners
WHAT WAS YOUR FAVORITE TOY AS A KID? I've got my Woobie. It's the blanket I've had ever since I was a kid.
WHAT ARE YOUR PLANS AFTER HIGH SCHOOL? I'm going to attend the University of Arkansas and I think I'm going to major in Pre-Med.
OTHER THAN YOUR PARENTS, WHO'S HAD THE BIGGEST INFLUENCE ON YOUR LIFE? HOW? Coach (Mike) Abrahamson, no doubt. He's molded me into the man I am today.
WHAT'S YOUR FAVORITE THING ABOUT BASKETBALL? Taking a charge
POSITION: Guard
WHAT DO YOU FEEL LIKE YOUR RESPONSIBILITIES ARE? Communicating with my team, leading them on defense and shooting the basketball.

WHAT DO YOU THINK OF THE SEASON SO FAR? I think we started off a little rocky but now we're on the incline and we're turning into the team that we need to be.
WHAT'S BEEN THE HIGHLIGHT TO THE SEASON SO FAR? I think some of the best games I missed because I was injured but, since I've been back, the three in a row that we won.
DO YOU WANT TO TALK ABOUT YOUR INJURY? I tore my MCL and I've pushed my self a lot. They projected that I wouldn't be back to 100 percent until Feb. 1 and I actually got to play on Jan. 7. I pushed myself through rehab and all that stuff and I got myself back on the court.
WHAT'S IT GOING TO TAKE FOR THE TEAM TO BE SUCCESSFUL THE REST OF THE SEASON? We've just got to keep working hard, stay consistent in practice and know that we're never a finished product.
TALK ABOUT YOUR GAME NOW; WHAT ARE YOU MOST CONFIDENT IN YOUR ABILITY TO DO? Shooting the ball and helping my teammates back on defense.
WHAT DO YOU WORK HARDEST TO IMPROVE ON IN PRACTICE? I'm always trying to push by teammates. That's what I work on the most, just trying to get them better.
WHEN YOU'RE THROUGH PLAYING BASKETBALL AT BRYANT HIGH SCHOOL, WHAT DO YOU THINK YOU'LL LOOK BACK AND REMEMBER MOST FONDLY ABOUT THE EXPERIENCE? All the memories I've made with my teammates on and off the court, things like boot camp every off season, going through some crazy workouts and, of course, Coach always being there for us.