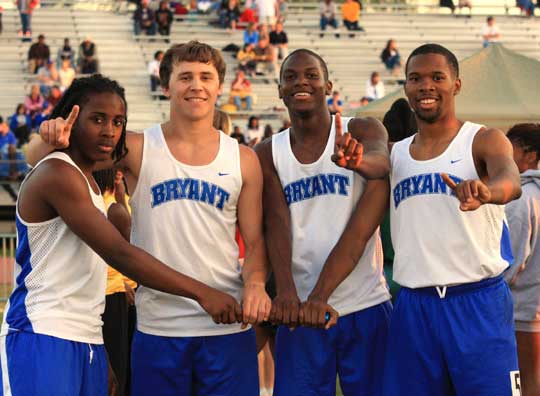 PEARCY — The Bryant Hornets scored 65 points to place fourth in the Lake Hamilton Invitational on Friday night. A total of 23 teams scored in the boys division, with Nashville taking the team title with 98.5 points. Vilonia earned runner-up honors with 76.5, followed by Lake Hamilton with 74.
The Hornets 4×100 meter relay team of Dillion Winfrey, Tanner Tolbert, Kendrick Farr, and Sammill Watson again earned a first place finish, this time just missing their own school record with a time of 42.66.[more]
"The relay team is doing a great job," commented head coach Steve Oury. "They know it's not going to be that easy every time out, but as long as they focus on executing good handoffs they should have a chance to win at any meet."
Tanner Tolbert scored in three individual events. He was second in the long jump (21-0.25) and fourth in the triple jump (41-2) and the 100 meter dash (11.36).
Caleb Thomas also scored in three individual events, finishing fifth in the long jump (20-5), sixth in the 100 (11.48) and eighth in the triple jump (39-6.75).
Luke Lindsley took fifth in the 1600 (4:35.38) and sixth in the 3200 (10:15.70).
The Hornets' 4×400 meter relay team of Dylan Blasi, Tyler Freshour, Farr and James Glasper finished fourth in a time of 3:41.64.
Blasi added a fifth-place performance in the triple jump (40-10.25) while Watson took fifth in the 200 (23.20). Glaper was seveth in the 400 (52.92) with Troy Smith finishing seveth in the high jump, clearing 5-10. Michael Smith took eighth in the 800 with a time of 2:07.77.
"We did a decent job considering we were a little short handed without most of our throwers," Oury commented. "We had some guys who normally score big struggle a little but, at the same time, we had some other guys step up. Caleb Thomas had his best meet of the year. He's looking better and better in the sprints and jumps.
"We have the Conway meet coming up on Thursday, and that will be our last meet until the conference meet on the 24th," added the coach. "We need to get some good training in and let some nagging aches and pains get healed up."